Add to Onlywire
OSHO Dhammapada-Buddhism-Buddha
THE DHAMMAPADA: THE WAY OF THE BUDDHA, VOL. 3
Chapter 8: A good belly laughter
Question 5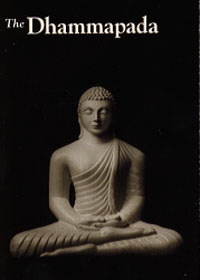 Energy Enhancement Enlightened Texts Dhammapada The Way of the Buddha, Vol. 3
The last question:
Question 5
BELOVED MASTER,
WHY ARE THERE SO MANY RELIGIONS IN THE WORLD?
Nagesh, why are there so many languages in the world? -- because there are so many people, so many ways to express. And it is not bad, it is good; the world is richer because of it. So many languages make the world tremendously rich. It gives variety, like so many flowers in the garden and so many birds.
Just think: only one flower all over the world, the marigold, and the whole world will look ugly; or the rose -- just one flower all over the world. And what will you do with those roses? Nobody will write any poetry about roses anymore then. And if you will compare your woman's face with the flower of the rose she will become angry, she will threaten you with a divorce. Roses will lose all meaning; they are beautiful because there are millions of other flowers too.
I don't think that the world needs one religion. The world needs religious consciousness, and then that consciousness can flow into as many streams as possible. In fact, my own idea of religion is that there should be as many religions as there are people -- each person having his own religion.
It is difficult to have your own language; each person cannot have his own language, otherwise nobody will understand it.
Mulla Nasruddin has applied for a job. The manager looked at him and did not feel that he's even qualified to apply for it. He asked him, "Can you read and write?"
Mulla Nasruddin said, "I cannot read, but I can write."
The manager was surprised; this is a rare situation -- he could have never conceived of a man who cannot read but can write. He said, "Then write!" He gave him a paper and Mulla immediately started writing on it. He went fast -- one page, two pages, three pages.
The manager said, "Now you stop! You please read what you have written, because I cannot read."
Nasruddin said, "That I have told you before -- I can only write! I can't read."
If you speak a language that only you understand, it will be impossible to communicate with people. But a religion -- you can have your own, because religion need not be communicated. Religion is not a dialogue between you and other people; religion is a dialogue between you and existence. So any language will do, or no language, or any invented languages -- Esperanto, or anything.
All these religions should be taken as different languages, then fanaticism loses its danger. Then it is beautiful! There are churches and temples and mosques and GURUDWARAS -- if we think these are all different languages, there is no problem. You don't see people fighting about which language is the true language -- Hindi, Marathi, English, German, French. Which language is the true language? Nobody will ask such a question, because all languages are arbitrary, made-up. They are not true or false, they are useful.
An Englishman, a Frenchman and a German were arguing about the respective merits of their languages. The Frenchman said, "French is the language of love, the language of romance, the most beautiful and pure language in the world."
The German announced, "German is the most vigorous language, the language of philosophers, the language of Goethe, the language most adaptable to the modern world of science and technology."
When the Englishman's turn came he said, "I don't understand what you fellows are talking about. Take this" -- and he held up a table knife. "You in France call it UN COUTEAU, you Germans call it EIN MESSER. We in England simply call it a knife, which, all said and done, is precisely what it is."
This is how religions have been arguing. Exactly like this has been the argument between religions: who is right? Christians, Hindus, Mohammedans, Buddhists, Jainas -- these are only different languages to express the same phenomenon. If once this is understood then there is no problem; I would like many MORE religions to evolve.
In fact in a better world every person will have his own religion, because religion is your way of expressing the inexpressible. It is like aesthetics: if you love roses and I don't love roses, there is no problem. We don't fight it out; we don't take swords and we don't go on a crusade: "Who is right? -- because this man says lotuses are beautiful, and I say roses are beautiful. Now it has to be decided on a battlefield."
How will you decide? You can kill me, but that won't make any difference. Even dying, I will go on saying lotuses are the most beautiful flowers; my death will not make any change in my vision. You can kill a Hindu, you can kill a Mohammedan: that does not change anything at all.
But this is what, down the ages, people have been doing to each other -- fighting ridiculously. Somebody calls God "Allah" -- he is wrong. Why? Somebody calls God "Ram" -- he is wrong. Why? -- because you call him "God." God, Ram, Allah, are all names, invented names for something which has no name of its own, which is a nameless experience.
There are so many religions, Nagesh, because there are so many people, different types of people. Different people have different likings, different people have different approaches towards reality, and reality is multidimensional.
Hence my emphasis is: we need a religious consciousness, a universal upsurge of religious consciousness. Of course it will take many forms, but forms don't matter; as far as the spirit is alive, forms don't matter. And each form is beautiful. There are so many people: each has a different face, a different beauty. Each person's fingerprints are different from every other person's in the world -- but this does not create any trouble. Each person's footprints towards God's door are going to be different.
Once we understand it a great brotherhood is possible. Otherwise this nonsense of religious fanaticism -- that "Only I am right" -- has been very destructive. It has destroyed religion itself; it has condemned religion and religious people. That's why there are so many irreligious people, antireligious people. It is what religion has done to humanity up to now that has created antireligious people -- atheists, godless people, God-denying people. The responsibility is of the priests, rabbis, popes, pundits, shankaracharyas -- these are the responsible people. They have made religion so ugly, so inhuman, so violent, so stupid, that any rational person feels a little ashamed of being part of any religious movement.
We have to destroy the ugly heritage of the past. We have to clean the space for the future. All are accepted: the Bible has its own beauty, so has the Koran, so has the Gita. And if you are religious you will enjoy the Bible as much as you will enjoy the Koran and the Gita, because you will know only languages are different. And the difference of languages creates different beauty. Sing the Koran, and you will see the difference. The Bible cannot be beautiful that way; the Koran has a singing quality to it. You can sing the Koran; even if you don't understand the meaning, the very music of it will be a transforming force. In fact, the Koran does not have much meaning; it has great poetry but not much meaning.
Many Mohammedan friends, many Mohammedan sannyasins, ask me when I am going to speak on the Koran. I have thought many times. Many times I have taken the Koran into my hand, looked here and there, and postponed it again -- because the Koran has not much meaning. It has poetry, it has a totally different beauty. It is a piece of art!
If you want meaning then the Gita has more meaning, but not that much poetry; then the Bible has more meaning, but not that much poetry. The Bible has its own beauty. It is so simple, the simplest scripture in the world, and because it is simple it has innocence, purity. Jesus speaks in the language of a villager: the parables and the metaphors are all primitive. But because they are primitive they have a purity, they are unpolluted -- unpolluted by the modern mind. They are straight, they go direct to the heart like an arrow. But if you want meaning then you should look into the Vedas, which are full of philosophy. They have their own beauty -- the beauty of intellectuality.
Each scripture has something to contribute to the world, and no scripture can do everything. But because you don't understand different languages, the problem arises. It will be good to have a few encounters with different religions.
That's why I go on speaking, sometimes on Buddhism, sometimes on Hinduism, sometimes on Christianity, sometimes on Judaism, on Hassids, on Zen, on Sufis -- for a certain reason: to give you different visions, so your own eyes can become rich, so that you can understand different language also a little bit.
Foster, in Tokyo on business, knew no Japanese. Even so, he persuaded an attractive girl, who spoke no English, to come to his hotel room. All during their lovemaking, the Oriental kept shouting "Machigai ana!" with great feeling.
Foster felt proud that he could get the girl so aroused to keep yelling, "Machigai ana!" Foster must have been thinking that this is something like "Fantastic! Far out!"
The next afternoon he played golf with a Japanese industrial tycoon. When the Oriental made a hole-in-one, Foster attempted to make a good impression and exclaimed "Machigai ana! Machigai ana!"
"What do you mean," snapped the tycoon, "the wrong hole?"
It is good to know a little bit of other languages too. It will be a great help to you to have a few glimpses of the Koran, the Bible, the Gita, THE DHAMMAPADA. That will make you more liberal, more broad-minded, more human.
Enough for today.
Next: Chapter 9: A small candle
Energy Enhancement Enlightened Texts Dhammapada The Way of the Buddha, Vol. 3