Add to Onlywire
OSHO Dhammapada-Buddhism-Buddha
THE DHAMMAPADA: THE WAY OF THE BUDDHA, VOL. 3
Chapter 8: A good belly laughter
Question 3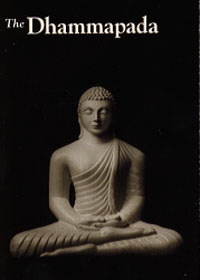 Energy Enhancement Enlightened Texts Dhammapada The Way of the Buddha, Vol. 3
The third question:
Question 3
BELOVED MASTER,
WHO ARE YOU? ARE YOU THE CHRIST COME BACK?
Premananda, do you think I am crazy or something? I am myself. Why should I be Christ or somebody else? Christ is Christ. He is not Krishna and he is not Buddha and he is not Zarathustra. Buddha is Buddha; he is not Yagnavalka, he is not Lao Tzu. And Socrates is Socrates; he is not Mahavira and he is not Patanjali.
I am myself. Why should I be Christ? In fact nothing in existence is ever repeated. Existence is so creative, it always creates new people. And it is not true only about Christ, Buddha and me -- it is true about you too. There has never been another individual like you, and there will never be. You are absolutely unique. Existence never repeats, remember it; hence you are incomparable, neither higher nor lower. That's why I say there is no hierarchy in existence. Each is superb and each is unique and each is alone. But such questions continuously go on arising. There are reasons for such questions.
Premananda, you must have been taught from your childhood about the second coming of Christ. Now you have fallen in love with me, and you would like somehow to reconcile your childhood mind with your new experiences that are happening here. You would like to bridge what has been told to you and what is happening to you. If somehow it can be bridged you will feel a little at rest. If it cannot be bridged then there will remain a little tension inside you. You will have to decide this way or that.
You cannot serve two masters -- that is the problem, that's why these questions arise. Now the problem is, "What to do? Should I remain with Christ?" But you don't know anything about Christ except what has been told to you. Christ is only a myth to you. He was a reality to John, to Luke, he was a reality to Matthew. He is not a reality to you, Premananda.
I am a reality to you; I will not be a reality to your children. You will teach your children about me, and one day if they come across a master the problem will arise: now what to do? To choose the past or to choose the present? That is the problem.
You are hesitating. You are afraid that if you choose me you will be betraying Jesus. No, I am not Christ. But by choosing me you will not be betraying Jesus, you will be fulfilling him. I am not Buddha, but by choosing me you will not be betraying Buddha; you will be making him as happy as possible, because by choosing me you will be choosing the essential core of religion. It is not a question of Christ, Buddha or me; these are only forms. Don't be too attached to forms: remember the essential core.
A man in a restaurant calls for the waiter and exclaims, "Waiter! There's a fly walking on my soup."
The waiter falls on his knees, raises his hands and cries, "Jesus is back on earth!"
And I know that Jesus has promised that he will be coming back, but I don't think that he can be so mad as to fulfill the promise. Remember what you have done with him? And if he still comes after what you have done with him he will be really crazy. It is impossible; he cannot come. He may have promised but he cannot fulfill it. If he fulfills it you will crucify him again; you cannot do otherwise. That's how you have been treating all the awakened people all over the world. You cannot tolerate them when they are alive, and when they are dead you worship them: this has been your tradition. When they are alive they are dangerous; you would like to kill them in some way or other. When they are dead they are very consoling; then you will carry their corpses for centuries.
Remember, Jesus was not crucified by criminals, sinners. He was crucified by the rabbis, the priests, the politicians -- the respected people. What was he doing to these so-called respectable people? He was becoming a danger to their very life-style. He was creating great guilt in their being; his very presence was a thorn in their flesh: if he was right, then they were all wrong.
And this was difficult, almost impossible for them to accept -- that this son of a carpenter, absolutely uneducated, unsophisticated, too young to be wise enough.... He was only thirty when he started preaching, and they could not tolerate him even for three years. By his thirty-third year he was crucified; his ministry lasted only for three years.
Buddha was far more fortunate: he was able to work for forty-two years. But Buddha was in a totally different kind of land -- not that the Hindus were behaving in any way differently from the Jews, but Hindus have their own cunning ways of destroying truth. The Jews were more straightforward: seeing the danger, they killed the man. Hindus are far more cunning, bound to be because they are the most ancient race on the earth. And Buddha was not a new buddha they had to encounter; they had encountered many buddhas, they had encountered twenty-four Jaina TIRTHANKARAS. They had seen Krishna and Rama and Parasuram and Patanjali and Kapil and Kanad and thousands of others. They have become very clever and cunning about how to prevent these people from affecting people, from influencing people.
There was no need to kill; they knew far better methods to kill, without killing. They started interpreting Buddha's words, Buddha's sayings, in such a way that they lost all their significance. There was no need to kill the Buddha; this was an easier way: interpret Buddha according to old scriptures, as if he is simply repeating the old scriptures. Their method was, "He is not saying anything new. It is written in the Upanishads, it is written in the Vedas -- so what? We have already got all this; he is not original."
And he was utterly original. It is NOT written in the Upanishads, and it is not written in the Vedas, because in the first place it can't be written at all. Yes, the people who wrote the Upanishads must have known it, but it is not written.
Hindus were very clever. They started writing commentaries on Buddha and they distorted his whole philosophy. They created so much philosophical argument, so much noise, that Buddha's still, small voice was lost, utterly lost. And the day he died, Hindus created thirty-two schools of Buddhist philosophy; each word was interpreted in thirty-two ways. They created so much confusion that the whole point was lost.
In fact, if they had crucified Buddha it would have been far better. Jesus was killed, but Jews have not commented on Jesus at all. Once they killed him they thought, "Now it is finished and that is that!" They forgot all about Jesus, they never mentioned even his name in their scriptures. They never thought of writing any commentary on his statements. They thought they have killed him and sooner or later people are going to forget all about him and there is no problem left.
In a way, Jesus' sayings have been saved far more accurately than Buddha's sayings, because the brahmins, the clever and cunning brahmins who gathered around Buddha, distorted everything that he was saying. It was distorted so much that if Buddha comes back he will not be able to believe his own eyes what has happened.
But these people never come back. A buddha can only be here once. Once a person has become a buddha or a christ, he evaporates and becomes a fragrance of the universe. He cannot materialize again.
Jesus may have promised because he had to leave his disciples so early. Nothing was ready... the disciples were not ready -- not even a single disciple had yet become enlightened. And they were at a loss what to do without the master. They had just come close to him; only three years' time is not much. They have not yet imbibed his spirit. To console them, to help them, to keep them integrated so they don't start falling apart, he must have promised. He must have said, "Don't be worried, I will be coming back again soon."
This promise was only a device. Remember, devices are neither true not false, they are only devices. It was a device to keep the spirit in the disciples flowing, to keep them integrated, to keep them confident, centered, rooted. It was simply a device! And it has helped, the device has worked; otherwise there would have been no Christians at all. Those poor disciples would have dispersed and slowly slowly would have forgotten all about Jesus. That's what rabbis and the priests were thinking was going to happen.
But Jesus was far more insightful. He gave them a promise that, "Wait! Don't be worried, I will be coming back. I cannot leave you, I will never leave you."
And this promise has helped in another way too: because this promise has been there, the Christian mystic has been able to remember Christ far more concentratedly than a Jaina can remember Mahavira -- because there is no promise. Mahavira has not said that, "I will come back," he has not said, "I will help you," he has not said, "I will be available to you after I am gone." In fact he has said, "You have to depend on yourself only." It is true, but it is going to be hard for the disciples.
And remember, Gurdjieff used to say that a man like Buddha or Christ CAN lie. And I agree with Gurdjieff perfectly. If they see that the lie is going to serve the truth, they will not be worried. They will not feel ashamed or guilty; they will use the lie in the service of truth. The lie becomes a device. Buddha calls it UPAYA -- a device.
Christian mystics have been able to remember Jesus far more deeply because this confidence that he will be helpful, that he is around, that whenever he is called he will be coming back.... Not that he will come, not that he is around, not that he is going to help, but this very idea that his help is available makes you centered. So in a way, without helping you, he HAS helped. The lie becomes true; the lie is no longer a lie, it becomes truth.
But don't take such promises seriously. There is no need for me to be a christ just to console you. You have to drop your old ideas; otherwise it is going to be a real problem for me. Here are Hindus, Mohammedans, Christians, Jainas, Buddhists, Parsis, Sikhs, and if the Sikhs say, "Are you Nanak?" and the Jainas say, "Are you the Jaina?" and the Buddhists say, "Are you the Buddha?" it will become troublesome. I cannot be all these people.
This is a gathering not of one religion, this is a gathering of all the religions of the world. This is a true human gathering, this is a true international gathering, a universal brotherhood.
Don't pay much attention to such promises, they are devices. But now they are of no more use to you. I am available here alive -- what is the point of thinking of a device which was invented two thousand years before? I am inventing devices every day for you, and while I am alive, please use them. It will be far more beneficial and easy to be benefited by them.
They met at a party. He was overwhelmed by her great beauty and vivacity. "I suppose that you have more invitations than you can possibly accept." he said.
"I cannot go out very often," she answered somewhat evasively, "because I work. But when I don't want to go out with a man, I simply tell him that I live in the suburbs."
"What a clever idea," he said, laughing. "And where DO you live?"
"In the suburbs," she answered sweetly.
Be very alert. Jesus certainly said, "I will come." It was just to wipe the tears from his disciples' eyes, it was out of compassion. But a man who has attained to God cannot come back. It is impossible; in the very nature of things it is impossible -- because he cannot enter into the body again. To enter into the body, you need a certain desire, a tremendous desire. And the man who has attained God has no desires left. It is through the doors of desire that a man enters into the body. If all desires are gone, then there is no way to enter into the body, to enter into the womb.
Hence, in the East, we know that once a buddha is gone he is gone forever. You can try to understand his teachings, but far better will be if you can find a buddha alive somewhere. And it never happens that if you search you will not find a buddha somewhere. If you really search you are bound to find a buddha somewhere or other. Somewhere or other in the darkness of the world there are always a few flames; they are always there because God is still hopeful, because God is still compassionate, because existence cares for you.
If you can come across a living buddha, a living christ, forget all about the past buddhas and past christs. He contains all, and yet he cannot be identified with anyone in particular. He himself is a buddha, he himself is a christ in his own right.
So I don't claim that I am Christ, I don't claim that I am Buddha. I simply claim that I have arrived, that I am at home. And I have thrown my doors open. If you are really a seeker, a lover of truth, don't miss this opportunity....
Next: Chapter 8: A good belly laughter, Question 4
Energy Enhancement Enlightened Texts Dhammapada The Way of the Buddha, Vol. 3