Add to Onlywire
OSHO Dhammapada-Buddhism-Buddha
THE DHAMMAPADA: THE WAY OF THE BUDDHA, VOL. 3
Chapter 10: Vast as the sky
Question 2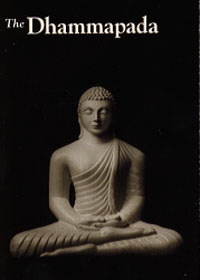 Energy Enhancement Enlightened Texts Dhammapada The Way of the Buddha, Vol. 3
The second question:
Question 2
BELOVED MASTER,
I WANT TO BECOME A SANNYASIN, BUT I CANNOT BECAUSE I AM ALREADY A PRACTICING CATHOLIC. HOW CAN I ACCEPT TWO MASTERS? AND AM I ALLOWED TO ASK QUESTIONS BEFORE I BECOME A SANNYASIN?
Alexander, there is no question of accepting two masters. It is not a question of masters, it is a question of surrender. If you are surrendered to Christ, you are surrendered to me. If you are surrendered to me, you are surrendered to Christ, to Buddha, to Mahavira, to Krishna. The question is of surrender. You are taking the question from the wrong end. If you know how to surrender, then all the masters are one. Then you will find Christ in Buddha, and Buddha in Christ.
The surrendered heart becomes so deeply harmonious that it can see that Krishna and Christ are not different. Certainly their language is different -- Krishna speaks Sanskrit, Christ speaks Aramaic. Certainly they use different metaphors, different parables. They are different fingers but pointing to the same moon. If you can see the moon, will you be worried about the fingers? If you can see the moon, will you be obsessed with the finger -- whether the finger is that of Krishna or Christ or Buddha or Lao Tzu? What does it matter? Once the moon is known, the fingers are forgotten. To become obsessed too much with the finger is a state of pathology. The Hindu is ill, the Mohammedan is ill, the Christian is ill. They have become fascinated too much, obsessed with the fingers.
There is only one moon, but it is reflected in a thousand and one lakes. Don't become too much attached to the reflection in the lakes, don't become too much attached to the lake! The lake has nothing to do with the moon; even if the lake disappears, the moon remains. The lake may become disturbed, the reflection may be lost, but the moon is there.
Yes, there are different lakes, and they have different kinds of water. One lake is salty, another lake is sweet; one lake has a bluish tinge to its color, another lake is a little green -- and so on, so forth. One lake is very deep. The other is very shallow. But these differences don't make any difference to the moon reflected in those lakes.
If you are really a practicing Catholic you will not hesitate even for a single moment in becoming a sannyasin. Because you are hesitating, let me say to you: you are not a practicing Catholic. And what do you mean by "practicing Catholic"? Because you go every Sunday to the church? Because you do the Lord's Prayer every night? Because you read the Bible every day for a certain period of time? What do you mean by being a practicing Catholic? Then why are you here? For what? If you have found the answer, you need not be here. If you have not found the answer, remember, you have still to inquire, still to journey....
I am offering my hand and you say, "How can I hold two masters' hands?" Do you think you are holding Christ's hand? Look again! Your hands are empty. If you cannot hold the hand of a living master, how can you hold the hand of a master gone for two thousand years? You cannot even be certain whether he ever existed or not. There are people who think that it is only a story, that there has never been an historical person like Christ. There are people, great scholars, who think that this is only an ancient folk drama, this whole story of Jesus has never been a reality.
How are you going to drop these doubts? And if you look into the story, it will create a thousand and one doubts in you. Jesus walking on water, Alexander, can you really believe it? And when I say "really" I mean REALLY. Can you really believe it -- somebody walking on water? Can you really believe Jesus, touching blind people's eyes and giving them sight? Can you really believe Jesus bringing Lazarus back to life from death? Do you believe Jesus is born out of a virgin mother? Is it possible? Do you believe that Jesus came back from death after three days, resurrected?
Look deep down: you will have a thousand and one doubts. In fact, it is so difficult to believe even a living master, how to believe in a dead master? And around dead masters stories are bound to be created by the disciples, out of their foolishness. They think that by creating these stories they will help the message to spread. And for a time being it may be so -- there were days when Jesus became important only because he was born out of a virgin mother. Buddha was not born out of a virgin mother, Mahavira was not born out of a virgin mother, Krishna was not born.... So it was something rare, unique; nobody else could claim it, it impressed people. But as people became more and more educated, as intelligence grew, as people became more and more thinkers, the same thing became the problem. Now one hesitates even to mention it.
Resurrection helped Christianity to spread all over the world, because Jesus was the only one who came back from death: of course, he has firsthand knowledge about what happens after death. Buddha, Mahavira, they are alive and talking about death and beyond, but they don't have any authentic experience. Jesus has. This helped Christianity to spread all over the world. But now the same thing has become a disadvantage. Now to talk about resurrection is to be laughed at.
What do you mean that you are a practicing Catholic? If you were really a practicing Catholic, there are only two alternatives: either you would not have been here, there would have been no need; or if you had felt the presence of Christ-consciousness here, then there would have been no hesitation on your part in becoming a sannyasin. That will be really becoming a Catholic, that will be becoming a christ.
Don't be a Christian; that is not enough. Unless you are a christ, nothing has happened. Try to be a christ, not to be a Christian. The Christian is only a believer, and the believer is always blind. The christ has eyes. And remember, when I use the word 'christ' I don't mean Jesus only. Christ is a state of ultimate consciousness: in the East we call it the state of being a buddha, the state of being a JINA. These are the same words. Jesus is only one of the christs -- Buddha is another, Lao Tzu is another, and there have been so many, and there will be so many. It is a long procession of lights.
And there is always a living christ somewhere or other. You can call him a buddha, you can call him a christ; it simply depends what language you are using. But don't be a fanatic, don't be sectarian; that creates stupidity, that does not help in growing, it does not help in attaining more consciousness.
As an experiment, two scientists decided to mate a male human with a female gorilla. They agreed only someone really stupid would submit to such an act, so they went down to the docks and grabbed Fanelli who had just gotten off the boat. "We will give you five thousand dollars to go to bed with a gorilla," proposed one of the scientists. "Will you do it?"
"Okay, I do it," agreed Fanelli. "But on three conditions."
"What are they?" asked the men of science.
"First-a, I am-a only gonna do it-a once," said the Italian. "Second-a, nobody can-a watch. And-a third-a, if a kid is born, it is-a gotta be raised a Catholic."
Alexander, enough of Catholics, enough of Protestants, enough of Hindus and Mohammedans. Now be finished with all that nonsense. Let a new humanity emerge, where Jews and Hindus and Jainas and Buddhists will not be constantly fighting, quarreling, trying to destroy each other, trying to impose their own ideas upon others; where man will be free to choose. You don't seem to be free to choose. Your being a Catholic seems to be like chains on your feet, your being a Catholic seems to be like a prison wall around you. You are not free.
You say, "I want to be a sannyasin...." Then who is preventing you? You want to be a sannyasin yet your being a Catholic prevents you. It is a wall, it is not a bridge.
True religion is always a bridge and never a wall.
McGuinty sat in the confessional. "Father," he said to the priest, "I don't feel I need forgiveness for my various adulteries."
"Why not?" asked the astonished priest.
"Well," said McGuinty, "The only married women I have relations with are all Jewish!"
"Oh, you are right, my son!" said the priest. "That's the only way to screw the Jews."
You are allowed to do the same thing to a Jew which you are not allowed to do to a Christian. You are allowed to do happily, welcomingly, something to a Mohammedan which you are not allowed to do to a Hindu. What kind of religiousness is this? What kind of humanity have we created? Neurotic it is, psychotic it is. We need a healthier human being.
My sannyasin is not getting involved in a sect; this is not a sect because we don't have any ideology. I don't preach any ideology. Even atheists are here and they are sannyasins and they don't believe in God. And I don't make it a basic requirement. There are no basic requirements, except your longing for truth -- but that is not a thing that makes you sectarian. In fact, the inquiry for truth, the longing for truth, makes you absolutely nonsectarian.
And a religious person is nonsectarian. He is simply religious -- not Christian, not Hindu. He cannot afford to be Hindu or Christian. How can he afford to be so limited? He cannot afford to get involved in prejudices; he cannot believe in conclusions already arrived at by others. He is on his own journey: he wants to know truth with his own eyes, he wants to hear God with his own ears, he wants to feel life and existence with his own heart. His search is individual.
Sannyasins are not part of a sect. This is the meeting of individuals; we have met because we are on the same journey. There is no ideology binding my sannyasins with each other; it is just because of the same inquiry for truth that accidentally we have met on the same road. We are fellow-travelers. Nothing binds one sannyasin to another sannyasin; there is no bondage of belief, tradition, scripture. And in fact sannyasins are not connected with each other at all directly -- their connection is with me.
One sannyasin is connected with me, another sannyasin is connected with me, hence they are connected with each other via me. There is no other organization. I am functioning only as a center and they are all connected with me, hence they feel connected with each other.
That's how a commune arises, a SANGHA is born. A commune can be alive only when the buddha is present, when the christ is present. Once the christ is gone, the commune disappears and becomes a community. The commune disappears and becomes a sect. I would not like my sannyasins to become a sect ever.
Alexander, you also ask, "And am I allowed to ask questions before I become a sannyasin?"
You have already asked a question, and I have already answered it. Yes, you are absolutely welcome. In fact, after becoming a sannyasin it becomes more and more difficult to ask questions -- they look so stupid. The longer you are here, the less you ask. And those who have been here longest have completely forgotten to ask anything. Don't be worried about that. You can ask questions just for questions' sake; you need not be a sannyasin.
And in fact I am more interested in questions which come from nonsannyasins, because then I can seduce them.
The Russian rabbit fled across the border at Brest and did not stop until a Polish rabbit assured him he was in Poland. "Why are you running?" asked the Polish rabbit.
"Because they are castrating all the camels in Russia," said the Russian bunny.
"But you are not a camel, you are a rabbit!"
"Yes -- but they castrate first and ask questions afterwards."
Next: Chapter 10: Vast as the sky, Question 3
Energy Enhancement Enlightened Texts Dhammapada The Way of the Buddha, Vol. 3