Add to Onlywire
OSHO Dhammapada-Buddhism-Buddha
THE DHAMMAPADA: THE WAY OF THE BUDDHA, VOL. 3
Chapter 10: Vast as the sky
Question 1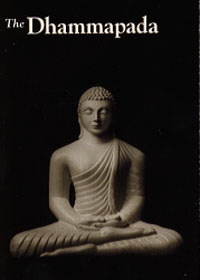 Energy Enhancement Enlightened Texts Dhammapada The Way of the Buddha, Vol. 3
The first question:
Question 1
BELOVED MASTER,
THE WESTERN MIND IS SO ORIENTED TOWARD ANALYSIS, THE LEFT HEMISPHERE OF THE BRAIN -- THE EASTERN MIND JUST THE OPPOSITE, THE INTUITIVE RIGHT HEMISPHERE. THE WEST IS FASCINATED BY THE EAST AND THE EAST BY THE WEST. EQUAL AMOUNTS OF BOTH -- IS THIS THE HARMONY OF WISDOM AND THE TRANSCENDENCE OF OPPOSITES?
Prem Dhanesh, the transcendence of opposites is not a quantitative phenomenon, it is a qualitative revolution. It is not a question of equal amounts of both; that will be a very materialistic solution. Quantity means matter. Equal amounts of both will give you only an appearance of synthesis but not a real synthesis -- a dead synthesis, not alive, not breathing, not with a heart beating.
The real synthesis is a dialogue: not equal amounts of both, but a loving relationship, an I/thou relationship. It is a question of bridging the opposites, not putting them together in one place.
Both are important, immensely important. Neither analysis can be discarded nor intuition. Discard analysis and you become outwardly poor, starved, unhealthy. And when one is outwardly poor, starved, unhealthy, how can he go inwards? It is impossible.
The outward poverty prevents the inward journey. You are so obsessed with food, clothes, shelter, you don't have time and space to go in, to think about the higher things of life.
In the Upanishads there is a beautiful story. Shvetketu, a young man, came back from the university full of knowledge. He was a brilliant student, he had topped the university with all the medals and all the degrees that were possible, available. He came back home with great pride. His old father, Uddalak, looked at him and asked him a single question. He said to him, "You have come full of knowledge, but do you know the knower? You have accumulated much information, your consciousness is full of borrowed wisdom -- but what is this consciousness? Do you know who you are?"
Shvetketu said, "But this question was never raised in the university. I have learned the Vedas, I have learned language, philosophy, poetry, literature, history, geography. I have learned all that was available in the university, but this was not a subject at all. You are asking a very strange question; nobody ever asked me in the university. It was not on the syllabus, it was not in my course."
Uddalak said, "You do one thing: be on a fast for two weeks, then I will ask you something."
He wanted to show his knowledge, just a young man's desire. He must have dreamed that his father would be very happy. Although the father was saying, "Wait for two weeks and fast," he started talking about the ultimate, the absolute, the Brahman.
The father said, "You wait two weeks, then we will discuss about Brahman."
Two days' fast, three days' fast, four days' fast, and the father started asking him, "What is Brahman?" In the beginning he answered a little bit, recited what he had crammed, displayed. But by the end of the week he was so tired, so exhausted, so hungry, that when the father asked, "What is Brahman?" he said, "Stop all this nonsense! I am hungry, I think only of food and you are asking me what Brahman is. Right now, except food nothing is Brahman."
The father said, "So your whole knowledge is just because you were not starved. Because you were taken care of, your body was nourished, it was easy for you to talk about great philosophy. Now is the real question. Now bring your knowledge!"
Shvetketu said, "I have forgotten all. Only one thing haunts me: hunger, hunger -- day in, day out. I cannot sleep, I cannot rest. There is fire in my belly, I am burning, and I don't know anything at all. I have forgotten all that I have learned."
The father said, "My son, food is the first step towards Brahman. Food is Brahman -- ANNAM BRAHMA." A tremendously significant statement. India has forgotten it completely. ANNAM BRAHMA: food is God, the first God.
If you drop the analytical mind, science disappears. If you drop the analytical mind, you can't be affluent; you are bound to be poor and hungry, and you will lose your first contact with God.
The West is in that contact; nothing is wrong about it. This orientation in analysis is a significant step towards knowing God. I am not against it. But one should not stop at it. Food is not an ultimate value, it is a means to an end. And if you have a meditative pilgrimage you start transforming food into prayer.
It depends. The painter eats the same food, but it becomes painting in him. The poet also eats the same food, it becomes poetry in him. The lover also eats the same food, it becomes love in him. The murderer also eats the same food, it becomes murder and destruction in him. Alexander, Genghis Khan, Adolf Hitler, Gautam Buddha, Jesus Christ and Krishna, they were not eating different kinds of food; the food is the same, more or less. But in Adolf Hitler it becomes destruction, in Gautam Buddha it becomes compassion. Food is raw energy; it depends on you how you transform it. You are the transformer; you are really significant, not what you eat.
Money is not bad in itself. That's my basic approach towards existence: money is neutral, it depends on you. In the hands of a man of understanding, money is tremendously beautiful. It can become music, it can become art, it can become science, it can become religion. It is not money that is bad, it is the person. The stupid person, if he has money, does not know what to do with it; his money creates more greed. Money can free you from greed, but the stupid person changes money into more greed. It becomes anger, it becomes sexuality, it becomes lust. The more money the stupid person has, the more stupid he becomes, because he becomes more powerful to do stupid things.
With the wise, everything is transformed into wisdom.
The analytical mind is not bad, the scientific approach towards reality is not bad -- but it is only a means, it can't be the end. The end is self-knowledge, the end is to know God, the end is to know the eternal, the deathless. AES DHAMMO SANANTANO: that is the end, to know the ultimate law which pervades, permeates the whole existence -- because by knowing it, one is liberated. Truth liberates.
The East has contributed greatly, immensely towards that ultimate end. But without means, how can you reach the end? And without the end what is the point of having all the means? It is a question of deep dialogue between East and West, it is a question of a marriage, not a quantitative combination of these two different approaches, not half East, half West, not a little bit of science and a little bit of religion. Human life is not that mathematical; it is poetic.
What is needed is a dialogue, an I/thou relationship, a love affair between East and West, a deep embrace. It is not a question of equal quantities; the WHOLE West and the WHOLE East meeting and merging into each other -- not half East, half West -- the whole East and the whole West melting into each other in a deep love relationship. Then only, the real synthesis, the transcendence of opposites, will be possible.
When two lovers meet in deep orgasmic joy, there is transcendence. The attraction is there: the East feels fascinated by the West, the West is fascinated by the East, but the danger is that the people from the West who are too fascinated with the East will drop being Western, they will become Eastern; and the people who are fascinated by the West will drop being Eastern and will become Western. So nothing has changed; there has been no meeting, there has been no merger, just the same problem again. People have simply changed their places: now the Eastern is standing in the Western hemisphere and the Western is standing in the Eastern hemisphere. Now the Westerner is meditating and the Easterner is studying in Oxford, in Cambridge, in Harvard, and becoming a scientist, a physicist. This is not going to help because there is no meeting happening.
My effort here is not to change the Western mind into the Eastern, not to change the Eastern mind into the Western, but to let here be a meeting of both -- not in part but in totality. And remember, when two wholes meet, it becomes one whole. When two totalities meet, it becomes one totality: that is transcendence. It is urgently needed, because without it there is no hope for humanity, no future for humanity.
What we are trying to do here is of immense importance for the future of man. It is not an ordinary experiment -- in fact there is no other experiment which is more important than this. You may not be aware that you are participating in something which can save the world. Otherwise the division between the Eastern and the Western is going to kill humanity. The East is poor, too poor, and the West is becoming too rich, and the rift is becoming bigger and bigger every day. This rift is bound to create, sooner or later, a third world war -- which will be destructive to both.
Before it happens we have to spread a new vision, we have to give birth to a new humanity, a man who is neither Eastern nor Western but both together simultaneously; not in equal amounts, not half Eastern, half Western -- fully Western, fully Eastern.
Next: Chapter 10: Vast as the sky, Question 2
Energy Enhancement Enlightened Texts Dhammapada The Way of the Buddha, Vol. 3