Add to Onlywire
OSHO Dhammapada-Buddhism-Buddha
THE DHAMMAPADA: THE WAY OF THE BUDDHA, VOL. 2
Chapter 10: The law -- ancient and inexhaustible
Question 5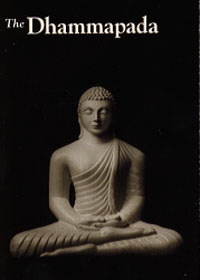 Energy Enhancement Enlightened Texts Dhammapada The Way of the Buddha, Vol. 2
The fifth question:
Question 5
BELOVED MASTER,
I AM VERY GREEDY FOR MONEY. DO YOU THINK I HAVE BEEN A JEW IN MY PAST LIFE?
Suresh, why in a past life? You are a Jew right now! Just by being born in India, just by being born in a Hindu family, does not make any difference. 'Jew' does not mean a race, it is a psychology, it is a metaphysics. The MARWARI is a Jew -- the Indian Jew. In fact, anybody who is greedy is Jewish -- greed is Jewish.
Jesus is not a Jew although he was born a Jew -- he is not Jewish at all. When I use words like 'jew', remember always that I'm not talking about races. I'm not interested in blood. The Jewish blood and the Christian blood and the Hindu blood are all alike. You can take a few samples -- you can get all kinds of samples here -- you can take a few samples to the doctor and ask him which blood is Jewish and which blood is Hindu and which blood is Buddhist, and he will be at a loss. He cannot find any way to figure it out -- blood is blood! Of course there are types in blood, but they are not Jewish and Hindu and Buddhist. 'Jew' is nothing but another name for greed. In that sense the whole world consists of Jews, except for a few exceptional people. Almost everybody is a Jew! Either you are a Jesus or you are a Jew -- these are the only alternatives. If you don't want to be a Jew then be a Jesus. And don't try to console yourself that in a past life.... Those are tricky inventions of the human mind: "In the past life maybe I was a Jew." You are a Jew right now. Throwing the responsibility on the past life keeps you intact; then you can continue as you are.
An old Jew offers to pay a prostitute double her demanded fee if she will keep both hands on his head during love-making. Afterwards she asks him what special thrill he got out of this.
"No thrill," he says, taking a large roll of bills out of his pocket, "but for two bucks extra I know your hands are on my head and not in my pockets!"
Another story for you, Suresh:
A retired Jewish businessman is nearly ruined by his sons' demands for money to pay off the girls whom they have seduced and made pregnant. But he pays in order to keep from seeing the family name disgraced.
A few days later his daughter comes to him and confesses, "Papa, I am pregnant."
"Thank God, business is picking up," says the old man.
And the third story:
A room full of Jews are discussing which business is best. Finally one bearded old man says, "Let us stop lying to each other. The whorehouse business is the best: they got it, they sell it, they still got it."
"What are you saying?" cries another horrified old man.
What am I saying? I'm saying: no overhead, no upkeep, no inventory -- who can beat it? And yes, it is all wholesale."
Greed is Jewish, and everybody is a Jew in that sense. And remember that greed is a projection of fear. It is because of fear that man becomes greedy. He is so much afraid, that he wants to accumulate for the future. He is so afraid, that he sacrifices his today for tomorrow, and the tomorrow never comes. The greedy man is the most foolish man in the world. "The fool" Buddha calls him -- the fool par excellence, because he goes on sacrificing the present for the future which never comes. He accumulates money but he cannot use it; he remains poor.
The greedy man never becomes rich. He may have the whole world at his disposal, but he remains poor. He cannot enjoy it, his greed won't allow that. He remains miserly. He always remains in such fear of the future that he cannot part from his money. He accumulates, accumulates, wastes his whole life and one day dies. He was a poor man his whole life -- empty-handed he had come, empty-handed he has gone, and his whole life went down the drain with no significance.
Don't try to console yourself that in the past life you were a Jew. Look into your being! You ARE a Jew. And then there is a possibility that you will see it: "I am a Jew, I am greedy. From where is my greed coming?" Go deeper into greed, analyze greed and you will find fear. And when you find fear you have come to a very fundamental thing.
There are only two ways to live life: one is that of fear and the other is that of love. The man who lives out of fear becomes greedy, becomes aggressive, becomes violent, becomes egoistic. And the man who lives out of love is out of necessity nongreedy, because love knows how to share. Love enjoys sharing, love knows no greater joy than sharing. Whatsoever love has, love shares. And love comes to know a great secret: that the more you share, the more love energy goes on reaching you, welling up from some unknown, inexhaustible source -- AES DHAMMO SANANTANO.
The more you love, the more you are prayerful. The more you love, the more God gives you, because you are giving. Whatsoever you do to people, God goes on doing to you. If you are miserly, God becomes miserly towards you. If you are sharing, God is sharing. Existence is only a mirror, it reflects your face, it echoes your being. Live through love and you will be a Jesus.
Jesus says: God is love. Live through fear and you are a Jew. You may be a Hindu Jew or a Mohammedan Jew or a Christian Jew -- it doesn't matter. Adjectives don't matter.
Next: Chapter 10: The law -- ancient and inexhaustible, Question 6
Energy Enhancement Enlightened Texts Dhammapada The Way of the Buddha, Vol. 2