Add to Onlywire
OSHO Dhammapada-Buddhism-Buddha
THE DHAMMAPADA: THE WAY OF THE BUDDHA, VOL. 2
Chapter 10: The law -- ancient and inexhaustible
Question 6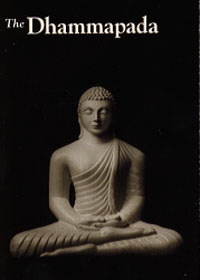 Energy Enhancement Enlightened Texts Dhammapada The Way of the Buddha, Vol. 2
The last question:
Question 6
BELOVED MASTER,
WHY DON'T I UNDERSTAND YOU?
Ram Gopal, understanding is a second step. The first is hearing. You don't hear me. You miss the first step; then the second is not possible.
While you are listening to me, a thousand and one thoughts are roaming in your mind. They keep you deaf. My words never reach you intact, in their purity. They are distorted, they are colored by your thoughts, by your prejudices, by your already arrived at conclusions. You listen to me through your knowledge -- that's why you really DON'T listen. And whatsoever reaches you is something totally different than what was conveyed. I'm saying one thing, you go on hearing something else; hence the misunderstanding. That's why you don't understand me; otherwise, I am using very simple words.
I'm not using any intellectual jargon, I'm using the day-to-day language. I never use big words -- my words are simple, as simple as they can be. If you don't understand, that simply means that somehow you are inwardly deaf. A great clamor of words and thoughts and conclusions and theories and prejudices and knowledge and experience -- the Hindu, the Mohammedan, the Christian, the Jew -- they are all there inside. It is very difficult for me to find a way to you. It is almost impossible to reach you.
It is not a question of understanding. Understanding will flower of its own accord if you can do one thing: if you can LISTEN, if you can allow me to reach you, if you can open your heart, if you are not deaf -- then understanding is bound to happen. Truth heard is understood, is bound to be understood. Understanding needs no other effort, it simply needs an opening, a vulnerability. Just open a window to me, just a window will do, and I can steal into you. Just a window will do. If you cannot open the front door, don't be worried, the back door will do. But open some door to me, let me come in, and then it is impossible not to understand, it is impossible to misunderstand.
Truth has such clarity that once understood, it transforms your life. Once heard, it is understood. Truth has a very simple process: once heard, it is understood; once understood, it transforms your life. If rightly heard you never ask how to understand. If rightly understood you never ask, "Now what should I do to transform my life according to it?" Truth transforms, truth liberates.
Meditate over this small anecdote:
A man walked into a New York bar and ordered two whiskies, one for himself and one for his friend. The barman produced the whiskies and the man poured some whisky into a thimble which he placed on a perfect miniature grand piano, which he took from his briefcase. He also took from his briefcase a twelve-inch-high man in evening dress, who sat down in front of the piano and commenced playing "The Moonlight Sonata."
The barman was incredulous and demanded to know where the little man has come from. The man explained, "I was just looking through a junk shop when I found an old oil lamp. I rubbed it with my sleeve a little in order to examine it better when there was a flash and a genie appeared saying he was the slave of the lamp and any wish of mine was his task to fulfill. So I told him I wanted a twelve-inch penis, and this is what the deaf sonofabitch gave me!"
He heard "a pianist" and missed the whole point.
You go on hearing what you can hear. You go on hearing things which are not said at all. And then you interpret them and all interpretations are misinterpretations. And whatsoever you will do will feel frustrating, because your misinterpretations cannot bring you to truth. Truth is a communion.
Buddha says: Find a friend, find a master and be in communion with the master. What is communion? Communion means withdrawing all conditions, withdrawing all prejudices, becoming innocent with somebody who has arrived, becoming a child again in front of one who has become awakened. Listen like a small child: alert, full of awe, wonder, and your heart will immediately be penetrated. I will reach you like an arrow.
Yes, there will be a little pain too, but very sweet...so sweet that you have never known anything more sweet than that. Yes, when for the first time the truth penetrates your heart like an arrow, it kills you -- it kills you as an ego. It is a crucifixion, but immediately there is a resurrection. On the one hand you die as you have been up to now, on the other hand you are born again. You become a twice-born, a DWIJ; you become a brahmin, you become one who knows.
But knowing needs a great love affair between the disciple and the master. Knowing is possible only when the love affair is total, when the commitment is total, when the involvement is total. If you listen just like a spectator, you will go on missing. If you listen only out of curiosity, you will go on missing. If you listen with all your ideas and philosophies, you will hear something else which has not been said.
It is not a question of understanding my words, it is a question of understanding my presence. Only the disciple is blessed.
Ram Gopal, you are still not a disciple. You are curious. You have come to see what is happening. You are not yet committed. You listen to me, but you keep a distance, so that if things become too much you can escape easily. You remain on the periphery, you have not entered into the circle.
Enter the circle -- I give you the invitation. Become my guest, let me be your host. Drink out of me and you will be drowned, and you will be transformed. It is a promise.
Enough for today.
THE END
Energy Enhancement Enlightened Texts Dhammapada The Way of the Buddha, Vol. 2