Add to Onlywire
OSHO Dhammapada-Buddhism-Buddha
THE DHAMMAPADA: THE WAY OF THE BUDDHA, VOL. 2
Chapter 10: The law -- ancient and inexhaustible
Question 4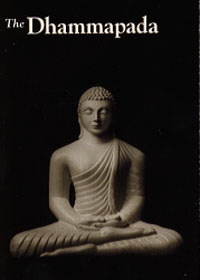 Energy Enhancement Enlightened Texts Dhammapada The Way of the Buddha, Vol. 2
The fourth question:
Question 4
BELOVED MASTER,
ALTHOUGH I WANT TO SURRENDER MYSELF TO YOU AND TAKE SANNYAS, I FEEL HELPLESS TO DO SO. WHY IS IT SO? PLEASE CLARIFY THIS.
S.D. Prasad, it is very simple, there is nothing to clarify. You are afraid of people, you are afraid of the society. You are afraid of the established church, the established religion, the priests, the politicians -- you are simply afraid. It is fear that is preventing you. Sannyas needs courage, sannyas needs guts, particularly my sannyas.
The old sannyas no longer needs guts, because it is already part of the status quo. It is accepted, respected. If you become an old-style sannyasin people will worship you. If you become MY sannyasin you will be in constant danger. People will think you are mad, people will think you are hypnotized. People will think that something has gone wrong -- that you have gone nuts. People will say, "Such a good man! We had never ever thought, dreamed that this was going to happen to you."
People will laugh, rumor about you, gossip about you, will create a thousand and one kinds of troubles for you. And you have to exist with people, you have to live with them. On each step they will create barriers and they will put rocks in your path. And not only those who are part of the greater society, but even those who are very close: your wife may create so much trouble for you...your children, your parents. From every nook and corner you will have to face difficulties.
You are afraid. Just try to understand your fear, and then it is very easy. Once you see that it is fear, drop it. In spite of all fears, jump into sannyas, because to remain in fear is to become a coward, to remain in fear is to miss the whole joy of life. Life belongs to those who know how to risk. Life belongs to the adventurous, and sannyas is the greatest adventure there is. And because I am bringing a totally new concept of sannyas into the world -- a sannyas that is not escapist, a sannyas that does not believe in renunciation, a sannyas that believes in rejoicing, a sannyas that wants to live in the world and yet not be of it....
The old sannyas is easy: you escape from the world, you leave the opportunities where temptation is possible, you escape to the Himalayan caves. Sitting there you will be a saint, because you don't have any other opportunity. You HAVE to be a saint. What else can you do there?
In the world all kinds of temptations exist. To be a saint in the world is something superb, something extraordinary. If there is no woman in the Himalayan caves...and I don't think there is. Women have never been so foolish; they are more earthly, they are more intuitive, they are not intellectuals. They are very realistic, they don't go after words and theories and philosophies. It is man who becomes very much attracted by abstractions. Woman does not bother much about the other world, she wants a beautiful sari HERENOW! You are a fool if you are waiting for some beautiful woman in heaven.
The feminine mind does not bother much about the other world. The feminine mind says, "We will see. If we can manage here, we will manage there too. If we can find a fool here, the same fools will be available there too. So why be worried about the other world?"
But man lives in abstractions. That is the masculine mind's greatest flaw. It lives in theories. It becomes so much hypnotized by words that it is ready to sacrifice life itself. It is ready to go to the caves, to renounce this life in order to attain the other life. It lives in the past, it lives in the future. Woman lives more in the present. Hence, there have been no women in the Himalayan caves. You can go and sit there and dream all kinds of dreams, but no opportunity is there. Money is not there, power is not there, beauty is not there -- nothing is there! Sitting in your cave you become more and more dull, slowly slowly; it is a kind of gradual suicide.
My sannyas is not dropping out of the world but getting deeper into it, getting to the very core of it, because God is at the very core of the world. God is the soul of the world. You cannot find him by escaping from the world. You can find him only by going deeper and deeper into the world. When you reach the very center of existence, you will find him. He is hidden in the world, the whole world is permeated by him. He is in the trees and in the rocks and in the birds and in the people. Yes, he is in your wife, in your husband and in your children. He is in you! And the best possibility to find him is in the world, not out of the world.
To go out of the world has been a great attraction; that too because of fear. The escapist is a coward; he cannot be watchful enough to live in the world and yet be unaffected by it. He cannot be so watchful -- he does not have that much intelligence, he cannot make that great effort to be awake -- hence he escapes. He is a coward.
So the old sannyas, S.D. Prasad, may fit you perfectly, but it is not going to help. You will remain a coward, and you will remain fear-oriented. On the surface it appears that the sannyasin who is leaving the world is very brave. It is not so. Don't be deceived by the appearances. The soldier who is going to war looks so brave -- don't be deceived by the appearances -- deep down he is trembling, he's afraid.
Adolf Hitler was preparing his wardrobe for a second dismal winter on the frozen front in Russia.
"Mein Fuhrer," suggested one of his suite, "remember what Napoleon did when he was in Russia. He wore a bright red uniform so that in case he was wounded his men would not notice the fact that he was bleeding."
"Excellent idea! Excellent idea!" ruminated Adolf. "Just throw me my brown pants."
Don't be deceived by the appearances. Even people like Adolf Hitler are tremendously afraid, trembling. And your so-called sannyasins who have escaped from the world have escaped out of fear.
I teach you the way of fearlessness. It is simply fear and nothing else that is preventing you, although you will not feel very happy with my answer. You must have been expecting that I would say something very gratifying to your ego. Excuse me, I cannot speak any untruth. I can only speak the true, and if it hurts, it hurts. It is only through truth that light starts entering into your being. So if you feel wounded...because your name seems unfamiliar to me, you must be new. And with new people I am never so rude, but I see a possibility in you, hence I am so hard.
Whenever I see a possibility in a man, I become hard. Whenever I see no possibility I remain very polite. If I am polite, that simply means I want to get rid of you. If I am hard, if I hammer hard on your head, that means I have already started respecting you.
Next: Chapter 10: The law -- ancient and inexhaustible, Question 5
Energy Enhancement Enlightened Texts Dhammapada The Way of the Buddha, Vol. 2