ASTROPHYSICS
Universe - Milky Way - Solar System - Earth - Ecology - Species - Human - Individual
---
SUPERNOVAE NOURISHMENT: The main source of elements.
Supernovae refer to several types of stellar explosions that produce extremely bright objects made of plasma that decline to invisibility over weeks or months. There are two possible routes to this end. A massive star may cease to generate fusion energy from fusing the nuclei of atoms in its core and collapses inward under the force of its own gravity, or a white dwarf star may accumulate material from a companion star until it reaches its Chandrasekhar limit and undergoes a thermonuclear explosion. In either case, the resulting supernova explosion expels much or all of the stellar material with great force.
The explosion drives a blast wave into the surrounding space, forming a supernova remnant. One famous example of this process is the remnant of SN 1604, shown at right.
According to the Big Bang theory, supernova explosions are the main source of all the elements heavier than oxygen, and they are the only source of many important elements. For example, it could be said that all the calcium in bones and all the iron in hemoglobin were synthesized in a supernova explosion, billions of years ago. Supernovae inject these heavy elements into the interstellar medium, thus enriching the molecular clouds that are the sites of stellar formation. It is believed that this enrichment process is what determined the composition of the Solar System 4.5 billion years ago, and ultimately made possible the chemistry of life on Earth.
---
GENESIS GENERATOR.
Our Universe is a huge dynamic, energetic process that may be eternal.
Our Universe has the natural ability to periodically produce, when conditions are favorable, habitable planets and sentient lifeforms by a natural process called "The Evolution of the Chemistry of Life."
We can call this process of planet-based biochemical process "Genesis."
Thus, the Universe is a huge Genesis Generator.
The main realization is that the basic substance and deepest identity of all life is the eternal mystery that is Existence.
---
PLANETARY HABITABILITY.
Planetary habitability is the measure of an astronomical body's potential for developing and sustaining life.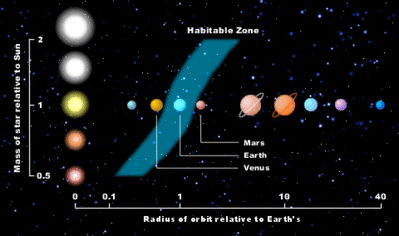 It may be applied both to planets and to the natural satellites of planets. The only absolute requirement for life is an energy source (usually but not necessarily solar energy), but the notion of planetary habitability implies that many other geophysical, geochemical, and astrophysical criteria must be met before an astronomical body is able to support life. The idea that planets beyond Earth might host life is an ancient one, though historically it was framed by philosophy as much as physical science. The late 20th century saw two breakthroughs in the field. To begin with, the observation and robotic exploration of other planets and moons within the solar system has provided critical information on defining habitability criteria and allowed for substantial geophysical comparisons between the Earth and other bodies. The discovery of extra-solar planets—beginning in 1995 and accelerating thereafter—was the second milestone. It confirmed that the Sun is not unique in hosting planets and expanded the habitability research horizon beyond our own solar system. (more...)