SATSANG ON THE BEATITUDES
TAPAS, ONE OF THE YAMAS OF THE YOGA SUTRAS OF PATANJALI, IS THE ACCEPTANCE OF SUFFERING IN ORDER TO EVOLVE, IN ORDER TO HELP ANOTHER PERSON, IN ORDER TO HELP THE WORLD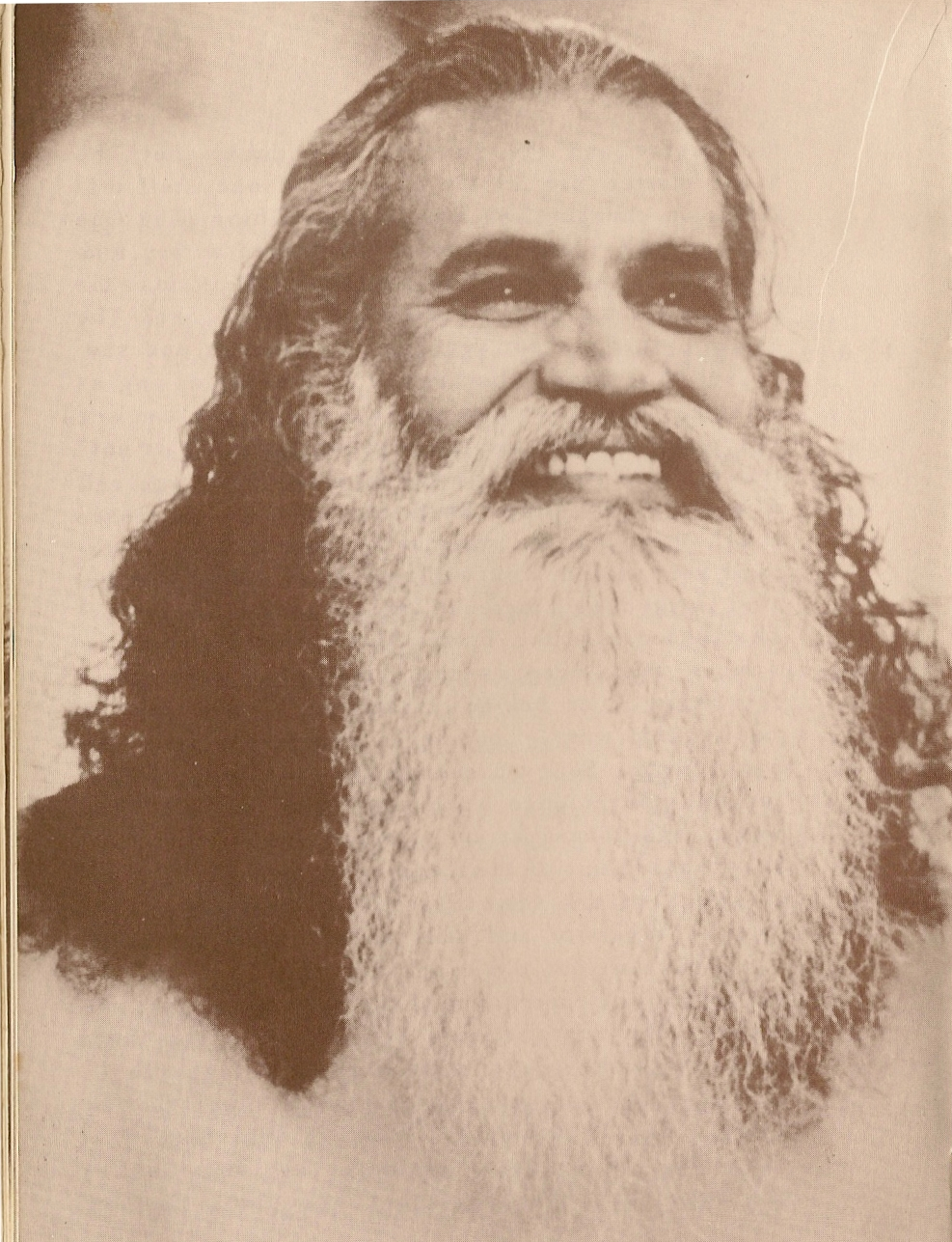 BY SWAMI SATCHIDANANDA, MASTER OF SWAMI SATCHIDANAND
SISTER CHANDRIKA: Blessed are they which are persecuted for righteousness' sake: for theirs is the kingdom of heaven.

SWAMIJI: Sufferings. Because without suffering there's no purification. Whoever is interested in purifying oneself should accept suffering. If it comes, accept it. Or while trying to relieve others' sufferings, if you face suffering, accept it.

Thiruvalluvar - One of the Tamil Siddars - gives the example of gold. How is golden ore purified? How do you get 24 carat gold? By constantly melting it and relieving it from all unnecessary sediments, mixtures. This is done with a lot of suffering. The gold undergoes a lot of sufferings. Every time it's heated, it is raised one more carat.
TAMIL: Sudachudarum Ponnpole. 'The more you heat it, the more it shines.'
Because Alchemically, all the dross, the unnecessary carbon and other things are burnt out. Like that, the more you get heated by suffering the more you shine.
Because suffering is like burning.
That's why it's called tapasya.
Tapas means to burn.
In other words you are gently, or ur-gently, roasted.
Until you become ash. Then that's called the holy ash. An ash is a holy substance because it's totally burnt. That's why you have an ash, holy ash, in Christianity, in Hinduism. Vibhuti, we call it. Vibhuti means burnt ash. It's called vibhuti because it has all the great qualities of God. Everything that is beautiful, that is supreme, is vibhuti. And this ash, which is called vibhuti, was dirt. Or to be more frank, it was dung. But it's no longer dirt. The very same dirt, burnt out completely, so it's now purified well, is now vibhuti, holy ash.

So suffering is helpful. If you face a little suffering, if you don't enjoy the way the food is prepared, say, `Ah, here is another way of my purification. God is trying to purify my tongue through this instrument we call the mother of the house.' If we forget that, we might feel, 'What is this? Can't you make a little better food? Can't you give me one more blanket? One a little more soft?'
Why are spiritual seekers expected to live a simple life? To accept suffering. To see how they can bear suffering. It's not a comfortable life. That comes afterward. When you have suffered enough, when you get burnt totally, then you are not trampled.
As long as you are dung, you get trampled. And thrown into the dung pit.
But when you get burnt, you become holy ash and you go to the very forehead of the person. You are elevated to a great height. You are respected. So the benefit comes afterward. But until you are completely burnt you can't get that. You can't go to that height.

I don't know if you remember a parable that I used to give. The Hindu temples, you know, are mostly built of granite rock. The sanctum sanctorum – the several steps you go up, and then the statue, the image you worship. as God – is made out of granite rock.
One day I was in front of the altar. There was nobody except me and the Lord through the image.
All of a sudden I heard a conversation. I became curious and I sharpened my ears to hear that. The conversation was like this: 'Hi, brother! How come you are getting all the decorations, all the offerings? Milk and honey are poured over you, you get decorated with nice jewels, flowers.
Everyone comes and respects you. And this priest, even while he decorates you, he is stepping on me. Nobody seems even to look at me. Even if they don't decorate me and respect me, can't they at least leave me alone instead of trampling on me? How come? Don't you know we were brothers? We were together, almost twins.'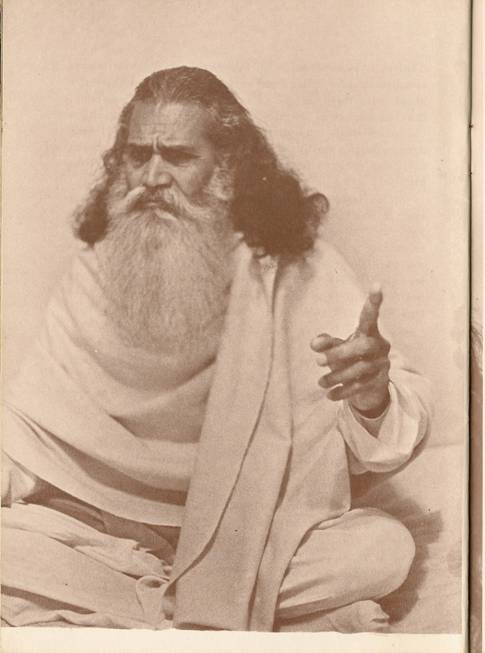 The other one said, 'Yes, my brother, I remember that. I can never forget it. We were together. We were one piece when we were brought from the neighboring rock quarry. But the sculptor started working and he split that one rock into two because it was too big for a statue.
And he picked you up first and started shaping you into a beautiful image. You know the sculptor! He started hitting at you with his iron chisel and hammer.
You became so furious, you shouted at him, yelled at him, 'How dare you do this? Leave me alone. I don't want to be hit like this.' And he thought that you are so unhappy, that you are possessed with a kind of ego or ignorance, so he just left you.
And then he took the other half and started working on me. I kept quiet. I thought there must be some reason for it. After all, he is the one who brought me all the way. Let him do whatever he wants. Of course it was really painful.
Constantly, he rolled me over and over, he hit me day and night. He was sometimes even sitting on me and hitting me. But I waited and waited and after several months, all of a sudden, one day, I saw myself as a beautiful image.
Now he has put me here and he is doing all the decorations. When he put me here I was a little too high for him to reach me, so he wanted a stepping stone and he thought to use you at least for that purpose. So he just placed you in front of me and that is why he is standing on you and pouring all the milk and honey on me.'

`Oh, I see. Well, if I had known that, I would have accepted all those things; but I didn't.'

`Well, I'm sorry, but it's too late. Just accept it. Pray for the next birth. And if somebody is hitting you, even if you don't know why, accept it. Be patient. Probably one day you will be respected. You'll be honored. You'll have all the decorations, all the festivities for you. Like me.'

That's what the Deity said. It's a conversation between the Deity and the stepping stone in front. Hm? So who was right?

SOMEONE: The Deity.

SWAMIJI: How did it become the Deity?

SOMEONE: By letting the sculptor work on him.

SWAMIJI: That's what. Did he work nicely, gently like this? (Swamiji strokes Sister Chandrika's cheek) `Sweet girl, sweet girl, give her a cake.' Did he do that? (Swamiji now gives Sister Chandrika a mock blow on the side of the head) Banging, banging, hm? That's what. Suffering. That's what he means. Didn't the Lord Jesus say, 'If someone hits you on the left cheek, show him the right one too'?

So, Blessed are the...
SISTER CHANDRIKA: Blessed are they which are persecuted for righteousness' sake.

SWAMIJI: Blessed are those who are persecuted for righteousness' sake. Well, it's easy to read this and even to interpret it. But when it comes in our own life, then we find it hard to swallow. That's why we should 'really be following it. Be good followers and good swallowers. (laughter)

(At this point, a member of the Ashram family comes up to Swamiji, giving him a coconut and a hammer with which to break it. This is sometimes done by devotees of Swamiji on their birthdays.)

SWAMIJI: See, this is a coconut. Do you know why the coconut is broken? The coconut represents the human mind. As people mostly identify themselves as the mind and talk in terms of that, they're all more or less like coconuts.
The coconut has three parts. The upper surface, which is covered with husk. Below the husk, you see the hard shell. Inside the shell you have that beautiful, white kernel.
The husk represents the tamasic part of the mind, which is the lazy mind.
The hard shell represents the rajasic part, the restless, extremely active mind, the egoistic part.
And the beautiful, white kernel inside represents the sattvic mind, or the tranquil one. That means, when the tranquil mind goes to one extreme, it becomes restless. And if it goes to the other extreme, it becomes lazy. So the not only for the birthdays.
In India, normally you take a coconut to the temple and put it in the hands of the priest. And he cracks it for you. It signifies that the teacher breaks your ego and brings out the beautiful you — to be offered to God.
Then the priest returns the coconut and the tasteful kernel is shared with everybody. That means, once God sees your purity, accepts you as His own, then he gives you back to be distributed to everybody. Your life becomes a beautiful and dedicated one, useful to everybody. That is the symbolic purpose of breaking a coconut.

(Swamiji prepares to strike the coconut.)
May you be free from ego and ignorance which causes the mortality of life, the mrithyor of life.
Om Tryambakam Yajamahe
Sugandhim Pushtivardhanam
Urvarukamiva Bandhanan
Mrityor Mukshiya Maamritat
Hari Om Tat Sat. Om Shanthi.
(He cracks the coconut.)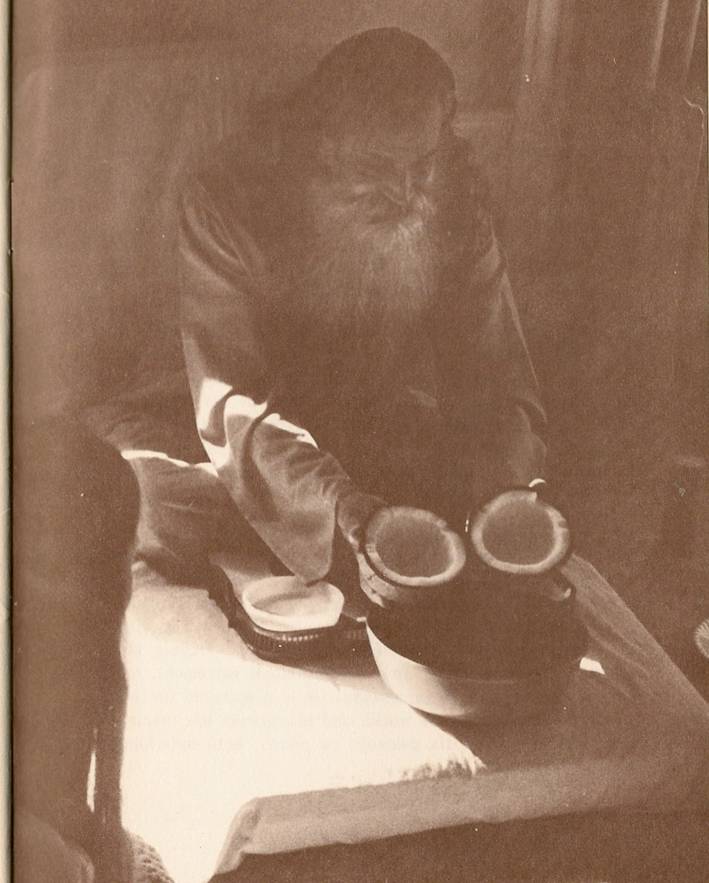 Mahamrityunjaya Mantra (maha-mrityun-jaya) is one of the more potent of the ancient Sanskrit mantras. Maha mrityunjaya is a call for enlightenment and is a practice of purifying the karmas of the soul at a deep level. It is also said to be quite beneficial for mental, emotional, and physical health.

AUM/OM: Guided Meditation on Absolute reality. That which encompasses the three states of waking, dreaming, deep sleep, represented by AUM, the three levels of gross, subtle, causal, the three levels of conscious, unconscious, subconscious, and the three universal processes of coming, being, and going. It is Tamas, Rajas and Sattvas which when made one, symbolise Illumination. Absolute silence beyond the three levels is the silence after AUM when we use OM as a guided meditation, in order to project our energy in order to connect with the center of the Universe.

Tryambakam: Trya means three. Ambakam means eyes. It means the three eyes of the Absolute, which are the processes of creation, existence, and dissolution, as well as the other triads, which are part of AUM. A - The center of the earth - Kundalini Chakra , U the heart center, M the Ajna Chakra moving into Sahasrara Chakra. Absolute silence beyond the three levels is the silence after AUM when we use OM as a guided meditation, in order to project our energy in order to connect with the center of the Universe. Thus it is a guided meditation to extend ourselves outwards into the antahkarana, into the Universe, to connect with external chakras, external sources of power. It is Energy Enhancement. The three "eyes" means experiencing these three stages and triads at one time, AS ONE, from the higher, all pervasive vantage point of the Absolute.

Yajamahe: We rejoice in meditation on all of this.

------------------------------

Sugandhim: Means fragrance. Like a spreading fragrance, which permeates the whole of this planet, whilst we are in contact with that existence of the OM Antahkarana. It is the Buddhafield of the Illuminated.

Pushtivardhanam: Means that which sustains and nourishes all. Thus, the fragrance that permeates all flows from God, the sustainer of all beings, while also the essence of all beings.

------------------------------

Urvarukamiva: Urva means big and powerful. Arukam means disease, like the spiritual diseases of ignorance and untruth, which are like the death of Wisdom or Truth.

Bandhanan: Means bound down, as in bound down to the ignorance and untruth.

------------------------------

Mrityor: Means ignorance and untruth.

Mukshiya: Means liberation from the cycles of physical, mental, and spiritual death.

Maamritat: Means please give me rejuvenating nectar which descends like the wine of the Sufis, of Carmina Burana, from the center of the Universe, so as to have this liberation. THIS IS THE ALCHEMICAL TAVERN OF CARMINA BURANA WHERE THE WINE - "EVERYBODY DRINKS IMMODERATELY" -IS THE KUNDALINI ENERGY OF THE MASTER - SATCHIDANAND Like the process of severing the cucumber from the creeping vine of the earth in order to ascend into the center of the Universe.

"this tavern is not closed, this tavern won't be stopped" from Mahayogi Baba Gorakhnath Ji
TRANSLATION BY SWAMI SATCHIDANAND
SATCHIDANAND, STUDENT OF SWAMI SATCHIDANANDA, IS ONE OF THE GREATEST KUNDALINI YOGIS IN THE WEST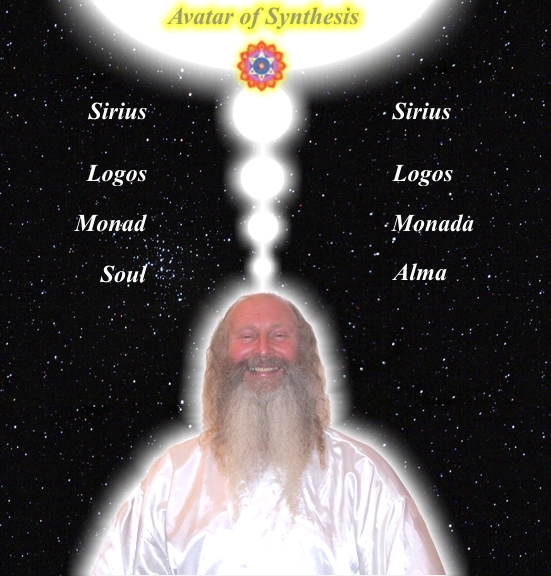 ENERGY ENHANCEMENT
Energy Enhancement can lead you to God or the universal absolute and it promises Nirvana and transformation, as these things are within you already. Energy Enhancement will not "tell" you about truth, but will give you the Real Spiritual Experience to provoke and challenge and excite into awakening to the truth which lies within. This kind of truth cannot be given as it takes two to Tango and it is the purity and resolution of the Student which calls forth the Energies of Existence. "It was your Faith which healed you" - said the Master. Yet, it can be felt through personal experiences which take you out of normal states of awareness – through Initiations and Rites of Passage calling you into new ways of seeing Self and everything you once believed was real.

Within you lies a doorway to the Infinite. The journey to find that doorway can be arduous for it takes you into the landscape of your inner being. Are you willing to Initiate one of the greatest challenges of your life? Are you willing to change your ideas of who you thought you were in order to discover who you really are? Say, "Yes". Leave behind your safety net and discover the knowledge that is your birthright. Many stand at this doorway, but few dare enter.


Inside you live the Mysteries of the Universe. Energy Enhancement is a doorway into that Grand Adventure.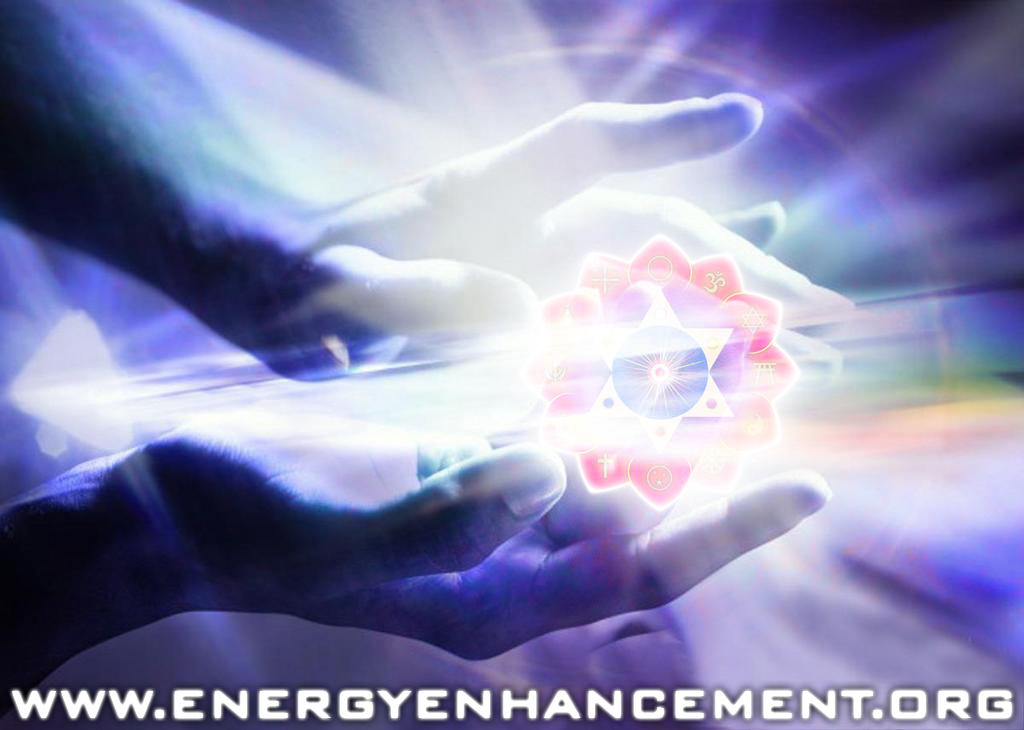 ANDY REPORTS ON HIS INITIATION ONE MEDITATION - STREAMING VIDEO COURSE
I feel a cool, refreshing sensation when I think I'm aligned properly, like the feeling you get when you walk into an air conditioned room on a hot summer day. It's a very wonderful feeling. Is this a symptom of aligning my spines correctly or is it all just my imagination?

A few minutes into the meditation, I can feel that my body starts to shake. I feel that the shaking comes from my heart beat, though I'm not sure, it could be the result of staying in the posture for the first time - my muscles could just be worn out.

I tried to follow the breathing you mentioned in the video during meditation, but I keep getting the urge to pause and stop breathing in between the in and out breaths. Should I ignore or follow my urge?

Today, I definitely feel that I have more energy. I feel the extra energy comes from the area of my body where my hands were placed during meditation.

I also loved the first talk!

Thanks again for your response.


You're right! I watched the Video again, and I was surprised how much information I missed the first time.

My spine is curved a bit backwards when I sit, and I think this is due to my lack of flexibility. But, I can feel that my spine is more able to "curve forwards at the base" as I sit more and more.

I always looked for ways to improve my posture, and I found the methods of stretching through the heart and the back of the head perfect for it. Thanks for the great Video! And thank you Satchidanand for giving me these awesome suggestions!

I'll practise diligently to get into alignment and then remove all the Energy Blockages!

Andy
THE ENERGY ENHANCEMENT STREAMING VIDEO HOME STUDY COURSE - BEST VALUE
See 89 Energy Enhancement YouTube STREAMING VIDEOS..
http://www.youtube.com/results?search_query=Swamisatchidanand&search=Search
CLICK ABOVE!!
THE ENERGY ENHANCEMENT STREAMING VIDEO HOME STUDY COURSE - BEST VALUE
See 89 Energy Enhancement YouTube STREAMING VIDEOS..
http://www.youtube.com/results?search_query=Swamisatchidanand&search=Search
ENERGY ENHANCEMENT ONLINE STREAMING VIDEO INTERNET COURSE LEVEL ONE AND LEVEL TWO
LEVEL ONE - GAIN THE ENERGY YOU NEED TO POWER UP!!
LEVEL TWO - REMOVE ENERGY BLOCKAGES WHICH AFFECT YOUR HEALTH, YOUR MIND AND EMOTIONS, AND YOUR INNER PEACE!!!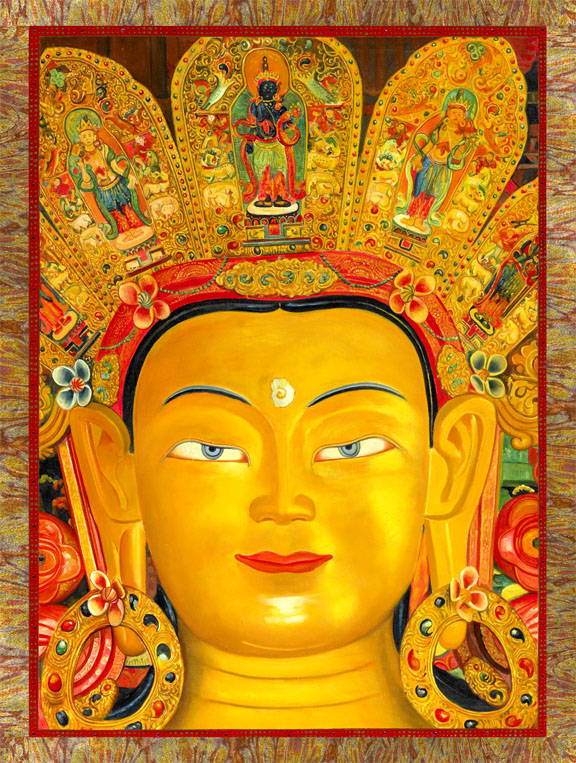 IN THE COMFORT OF YOUR OWN HOME –
GAIN THE INCREDIBLE BENEFITS OF THE KUNDALINI KRIYAS, THE GROUNDING OF NEGATIVE ENERGIES, DRAIN THE LAST DREGS OF YOUR VITRIOL. LEARN ENERGY ENHANCEMENT LEVEL ONE AND LEVEL TWO OF THE COURSE ON ENERGY ENHANCEMENT
GAIN THE ENERGY YOU NEED TO POWER UP!!
EMAIL sol@energyenhancement.org for details
KUNDALINI AND THE DIRECTORS OF "ENERGY ENHANCEMENT SYNTHESIS OF LIGHT" BIOGRAPHIES - SATCHIDANAND and DEVI DHYANI - CLICK HERE!!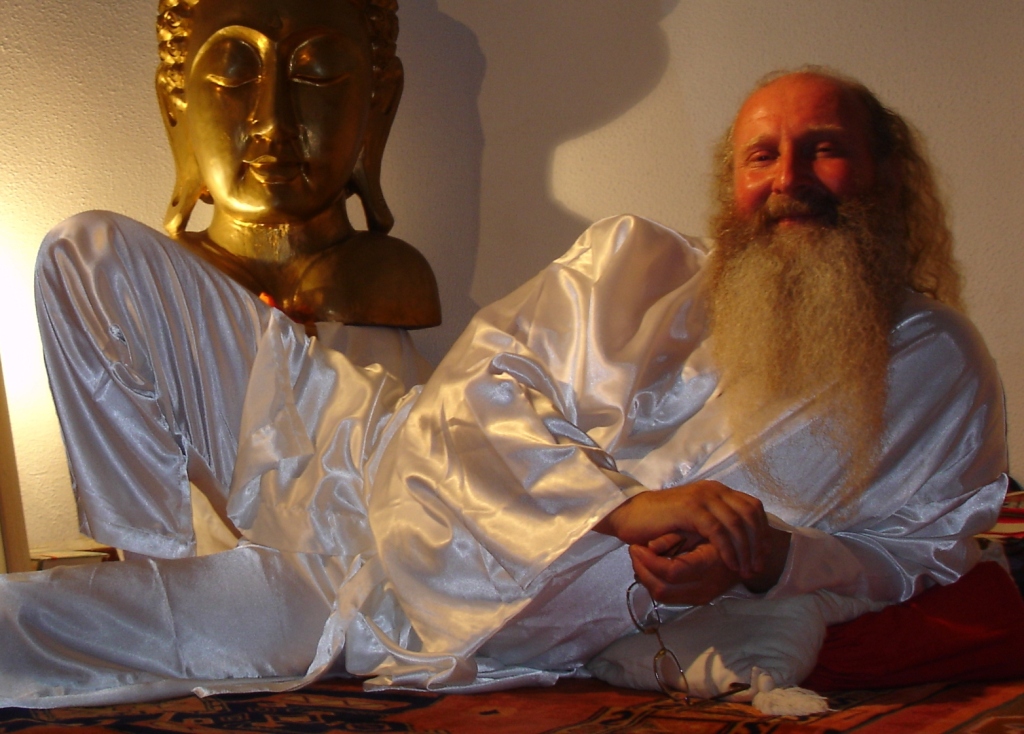 SATCHIDANAND, STUDENT OF SWAMI SATCHIDANANDA, IS ONE OF THE GREATEST KUNDALINI YOGIS IN THE WEST
FROM DON MINIHANES COURSE REPORT - LAST WEEK OF ENERGY ENHANCEMENT REIKI MASTERY OPTION
"I am now in the last week of the course and I feel like a totally different person. I have regained myself and have been given from nothing having no psychic vision at all at the start of the energy enhancement course, a clarity of psychic vision that is breathtaking."
"As we practiced on each other we came very quickly to realise this. I could literally feel the energy moving inside each chakra as the other person worked within me from several meters away and when I worked on the other person I could see me projecting energy to them and could see where the blockages were within their chakras.
I could force the energy from my centres into their centres and clean their centre bringing the energy full circle back to me. You could tell the state of their chakras by the amount of energy returning to your own centre and this was achieved by mind power only.
Before I came here Satchi said he would teach me to do it in this way and I was sceptical about this claim. I could never envision me having psychic vision, but I have now, I can now do astonishingly powerful Reiki sessions on people without going any where near them and distance healing over any distance is a piece of cake, incredible stuff."
"I am totally de-stressed and have expanded in every way. I feel stronger and fitter and much more mentally agile than I have ever felt in my life. The fog and confusion of life has gone and I feel that I have just received the inside information on everything.
I am ready for anything and am wide awake. I am full of the most incredible energy imaginable and have Energy Enhancement Reiki that is so powerful it staggers me. I know a thing or two about Reiki and had a very strong Reiki connection before I got here, now I have a connection that is beyond description and I have yet to undergo the second initiation this week and then the masters. I have opted to take this as an extra and for anyone who is interested, I believe this is beyond anything you will ever experienced anywhere."
I am now equipped with life tools and healing tools that one only dreams of and there is nothing out there in the world that will ever faze me again. I am absolutely delighted that I decided to come here, because this experience has changed me, for the good of me and for all those that I will touch when I leave here. I am so excited and can't wait to start exploring my new found talents"
MORE ON ENERGY ENHANCEMENT REIKI
email sol@energyenhancement.org for Course details
ENERGY ENHANCEMENT KUNDALINI KRIYAS.. IN INDIA 2010

DEVI DHYANI IN INDIA AT THE TAJ MAHAL JULY 2010
A SMALL COLLECTION WITH NEW PHOTOS OF OUR KUNDALINI KRIYAS WORK WITH VARIOUS STUDENTS IN INDIA 2010
On this tour of India and Thailand From Haridwar, Rishikesh and the Ashrams of Mata Amritananda Mayi Ma and Sivananda, Delhi, Goa with our SOL Center Apartment with Swimming Pool and Bengaluru and the Ashram of Sathya Sai Baba at Putthaparthi Prashanti Nilayam - the Abode of the Gods to Thailand and Chiang Mai and the Temples of the Buddha -
We taught many students in the techniques of Energy Enhancement Students - an MA in Philosophy from Ireland who first came to see us in 2002 in Escala Spain, and again with his new wife in 2007 in Palamos, Spain, an International Lawyer in the Court of Human rights from Cordoba in Argentina, a Turkish Student from the USA presently running his own Web Software Company, our student from the UK who has been coming to see us every year since 2005 and who spent 6 weeks with us in Goa and the Ashram of Sathya Sai Baba and a Certified Accountant from Croatia.
All the students experienced Psychic Vision as they Powered Up their Energy Bodies through connection with the chakras in the Center of the Earth and in the Center of the Universe. All of them saw their psychic bodies and the Energy Blockages which inhabited them. Every student had the experience of removing said Energy Blockages - removing and discharging their Negative Karmic Mass and integrating the purified remains with the Soul Chakra, coating the Higher Being Bodies and creating the Body Kesdjian.
Older Students had the experience of working with the Ego. All students reading this missive are the Outpatients. Those who come are the Inpatients for the Operation of the Egodectomy!!
As we charcterise our Sub-Persdonalities of the Ego - it is that vast Mass of Energy Blockages which comprise the Selfish Competitive Ego - so we can ground even the deepest blockage, purify our Egoistic Self Destructors who rule our madness from Lifetime to Lifetime, create the Vajra Diamond Body (EE LEVEL 5) which alone can survive the Death process as an Ascended Master..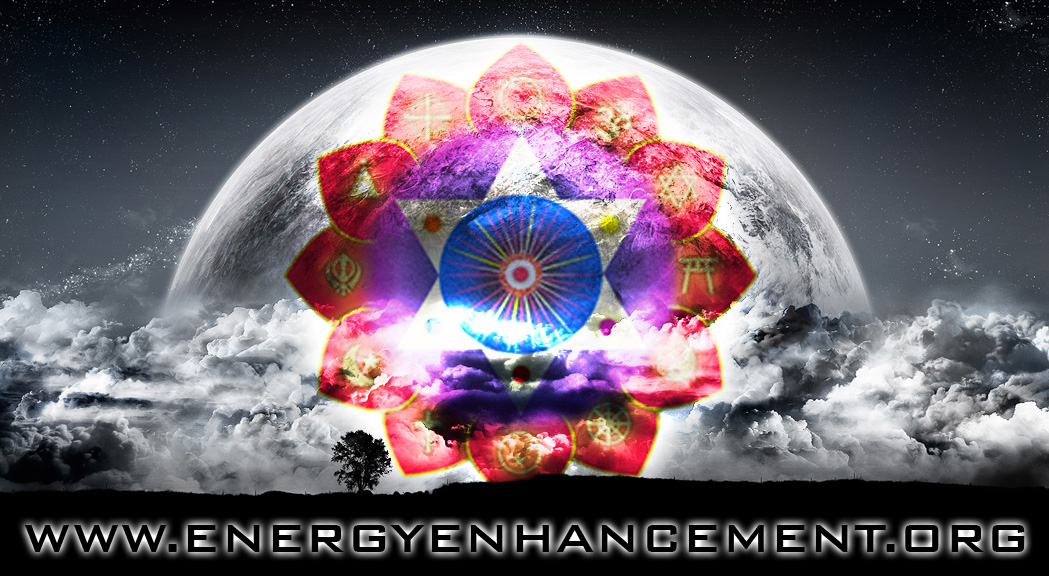 ENERGY ENHANCEMENT KUNDALINI KRIYAS - GOA, INDIA COURSE..
SATCHIDANAND, STUDENT OF SWAMI SATCHIDANANDA, IS ONE OF THE GREATEST KUNDALINI YOGIS IN THE WEST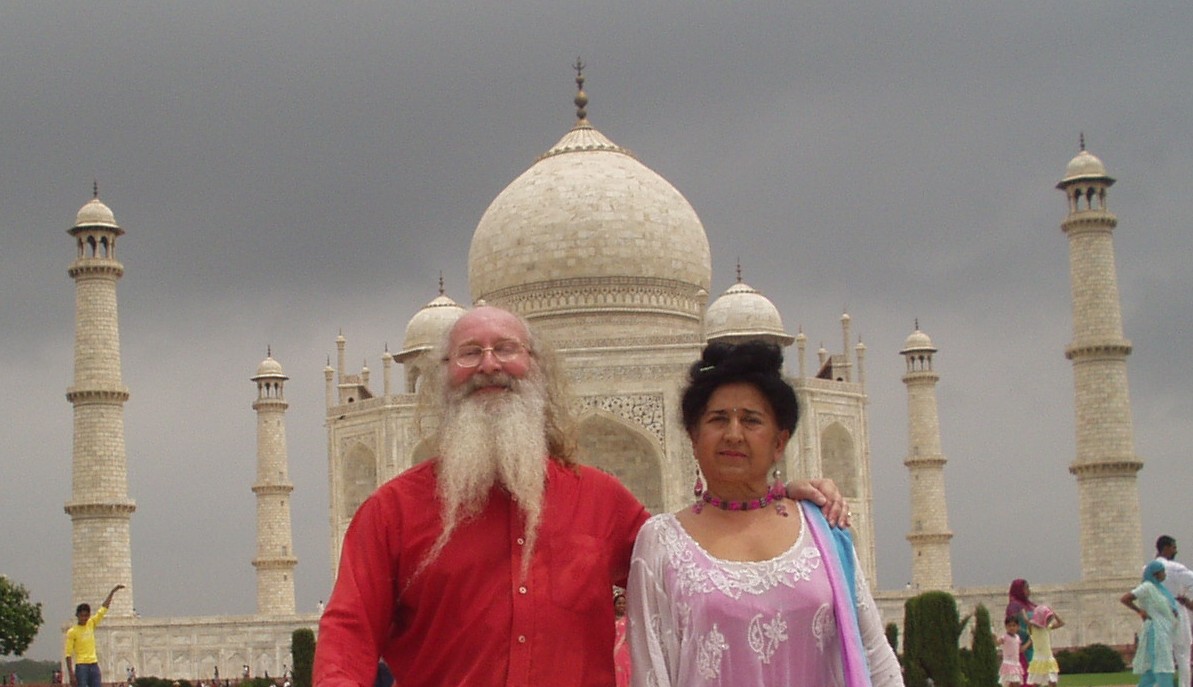 Satchidanand and Devi Dhyani at the Taj Mahal JULY 2010

ENERGY ENHANCEMENT KUNDALINI KRIYAS ..
NOW YOU CAN!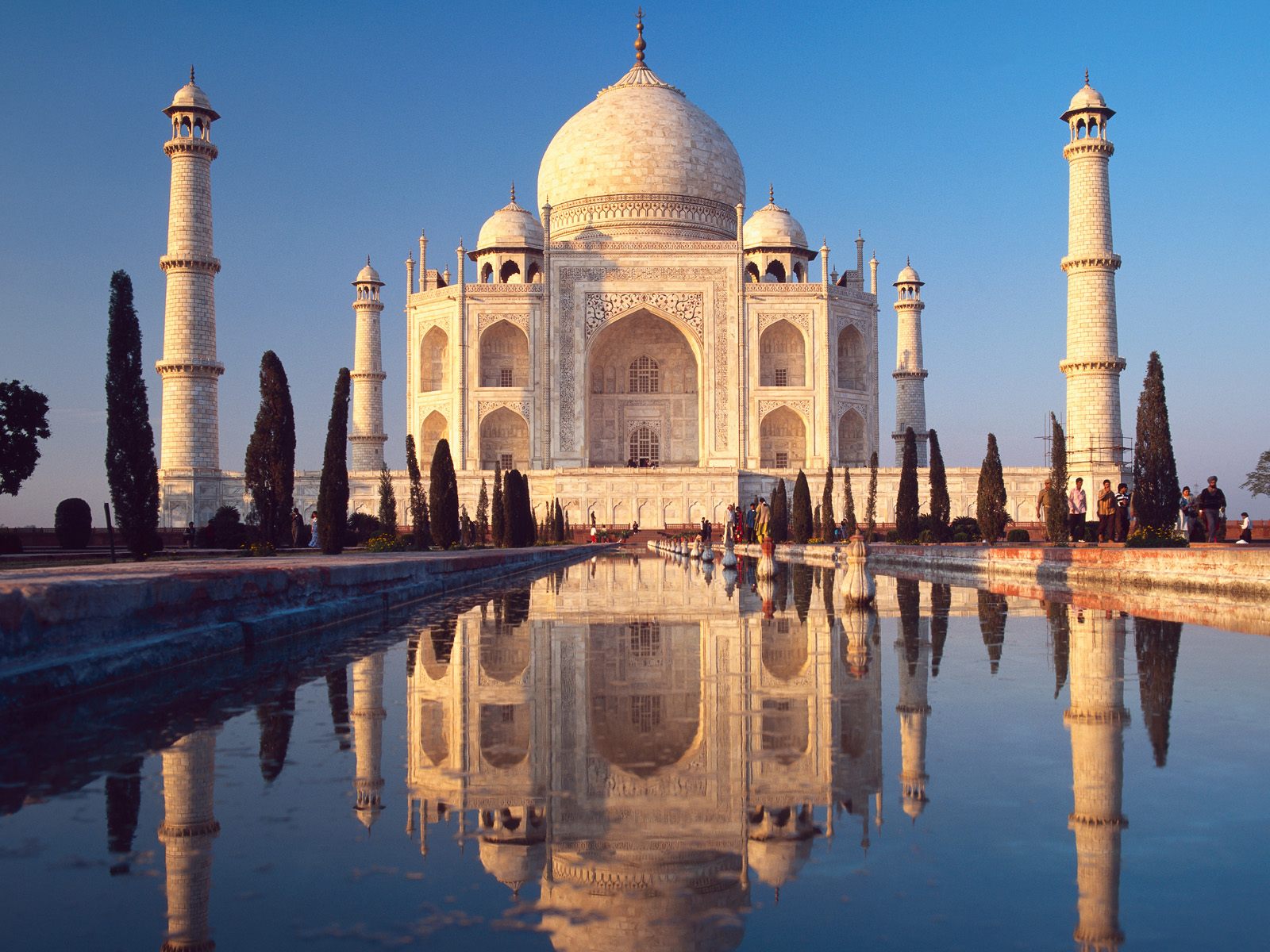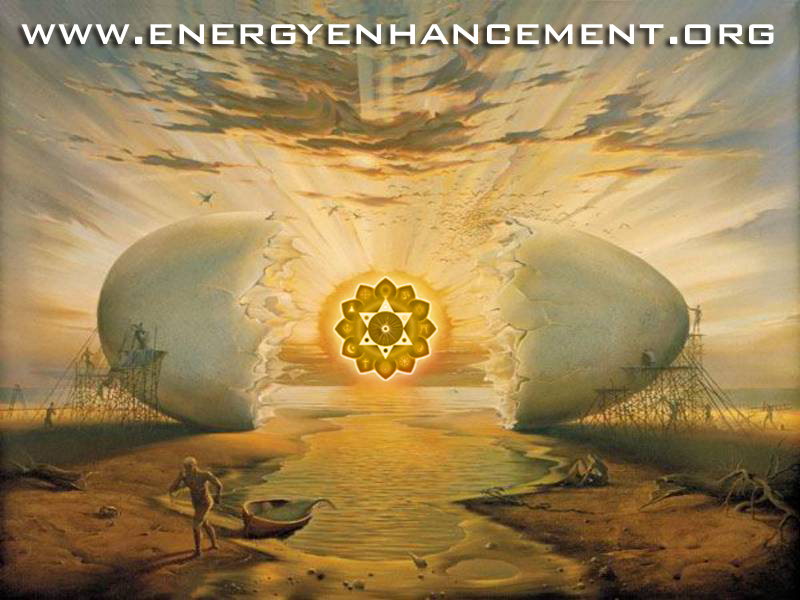 THE SOCIETY PROPPED UP EGO EGG SHELL - LIKE THE COCONUT - IS BROKEN. YET LITTLE MAN TURNS HIS BACK ON THE LIGHT OF THE SOUL WHICH SHINES FORTH FROM THE ENLIGHTENED!! - SATCHIDANAND INTERPRETS SALVADOR DALI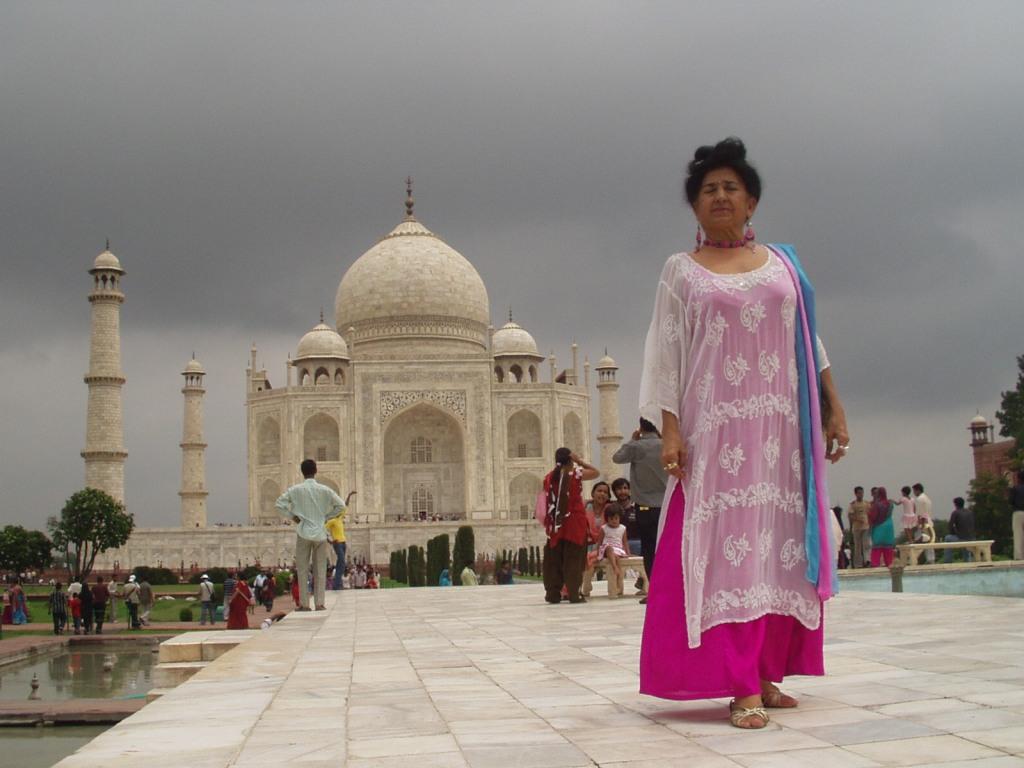 SEE OUR FULL INDIA REPORT CLICK HERE!!
THOMAS BLAIRS REPORT JULY 9TH 2010
I have been to see Satchi & Devi almost once a year since 2005, and I have to say, that I have never been let down. Every time they greet me at the airport I am received in an atmosphere of great warmth, positivity and generosity, into which I soon relax and know that it's safe to be me with all my "luggage". In June 2010 I recently went on a 6 week course they were holding in India.
In the weeks I spent with them it was clear that the blockages I was removing with their help, were increasing the amount of energy flowing through me during meditation. I have never been one to naturally take to meditating, but with these new experiences of Samadhi (sam – with, adhi – light), it was certainly making it possible for me to sit for much longer periods.
I must concede, that on more than one occasion I started to object and complain about what we were doing, and the methods employed to transmute the blockages in my being. Satchi & Devi would patiently wait for me to see that the person complaining was not the real me, it was not the soul infused personality that I really am, but rather the voice of the blockages that did not want to go. There are different types of blockages, and of course, the easy ones are the first to go, but I was now experiencing some really tough ones. They can certainly be very cunning these blockages, and its thanks to the experience and energy of Satchi & Devi that I was able to continue on my way to overcome some really strong blockages.
My experiences of Samadhi: The first time I experienced anything other than a calm mind in meditation was actually the very first course I attended with Satchi & Devi in Spain. The experience of energy surging through my body was first felt in my 1st and 2nd chakras. It was like having champagne bubbling away in my lower abdomen. Before I talk about my experience here in India, I think it would be useful to describe briefly and partly a technique used to commence the flow of energy and so the entry into Samadhi. It's to do with using the mind to visualise chakras above the head and below the base chakra to infinity. For me, the concept of infinity and trying to imagine this distance above my head, kind of triggered a bypass switch in my mind, and all of a sudden my mind was quite literally replaced by a surge of electricity and light – Samadhi.
"If the Map is Correct, Experiences Follow" - Satchidanand
This time here in India I was experiencing different levels of Samadhi. During meditation I notice the attainment of a constant flow of energy through my being which gets more and more intense, and rises further and further up my body, the higher I go up the chakras above my head to an inconceivably bright and intense sun. Quite often my breathing slows or even stops a while at the head of an in-breath as my head feels infused with light. My body feels like it is being purified, and in fact it is, as light is being shone through me. I always finish the meditation feeling more positive about my life and the world around me and a feeling that really everything is ok.
Over and above this, I receive what I would describe as bolts of light lasting between 2-5 seconds.
During these brief moments, I am no longer a body with senses or even a sense of weighing or being anything, and am unable to think.
"In the Buddhafield we find we can Move On More Quickly!" - Satchidanand
It's my experience that the body is like a resistor in an electronic circuit. The more blockages we have, the greater the resistance to the light. By removing a significant number of blockages, I have reduced the resistance of my gross and subtle body, and am now able to sit in Samadhi with ease. And of course, the more light I can sit in, the more blockages I can remove - now that's what I call spiritual progress!
Thomas Blair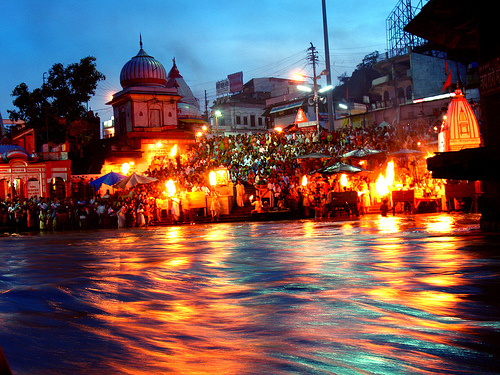 HARIDWAR NIGHTLY ARATI ON THE HOLY GANGES - HIMALAYAS
INCLUDING LEVEL ONE OF ENERGY ENHANCEMENT MEDITATION SAMYAMA
LOVE AND LIGHT
SATCHIDANAND
Further Study
Energy Enhancement, Patanjali, and the Lord of the Rings.
THE YOGA SUTRAS OF PATANJALI - THE CESSATION OF THOUGHTFORMS AND NEGATIVE EMOTIONS.
The Yoga Sutras of Patanjali Commentary Satchidanand
The Yoga Sutras of Patanjali Commentary Osho Satchidanand Swami satchidananda
Ahimsa Harmlessness Removes Pain Body or Negative-Karmic Mass
SATSANG ON THE BEATITUDES - TAPAS, ONE OF THE YAMAS OF THE YOGA SUTRAS OF PATANJALI, IS THE ACCEPTANCE OF SUFFERING IN ORDER TO EVOLVE, IN ORDER TO HELP ANOTHER PERSON, IN ORDER TO HELP THE WORLD
OSHOS COMMENTARY ON THE YOGA SUTRAS OF PATANJALI IS ALSO A WONDER...
OSHO BOOK: YOGA: THE ALPHA AND THE OMEGA, VOL. 1
Discourses on the Yoga Sutras of Patanjali, Talks given from 25/12/73 pm to 10/05/76 am, English Discourse series, 10 Chapters.
Introduction : Osho is saying that all the techniques of Yoga have really one focus: how to use the mind. Rightly used it becomes no- mind and you are absolutely silent; wrongly, it becomes so divided you go insane. Through the sutras of Patanjali, Osho leads the reader step by step toward an understanding of the mind - that it is not something different from the body, and how to use it as an instrument.
I was writing this to say that all this Pain Filled, Concentrated Pain or Trauma Formed Negative Karmic Mass (NKM) energy is being created and passed around. As well as Heart Disease and Cancer this Pain we maintain within ourselves and which we create in other living beings is the cause of all Wars on this planet for example!!
THE EATING OF CADAVERS. THE CREATION OF THE GRAVE - YARD OF THE STOMACH.
This is the start of blocking the Heart of Compassion whereby man gets his power to contemplate the killing, murder and torture of other Human Beings. The Killing and Eating of Animals is just the start of the process of Vampirism - THE BLOOD IS THE LIFE!! - ON THIS PLANET - Resist IT with Ahimsa!!
Read this...