Hatha Yoga: The Yoga of the Physical Body.
---
Ushtrasana: The Camel Pose.
---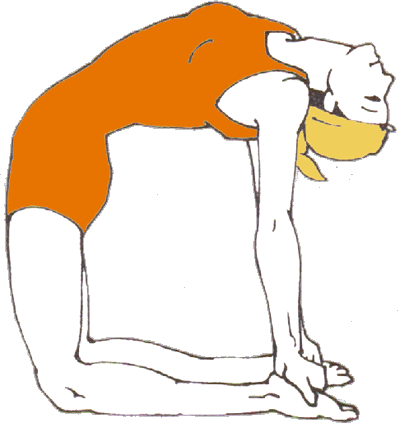 ---
Instructions.
Sit in Vajrasana with the feet and knees slightly apart.

Stand on your knees and stretch the arms to the sides.

Lean backwards and place the hands on the heels.

Stretch the neck backwards and let the body weight rest on the arms.

Arch as far back as possible.

Return to the kneeling position, then back to Vajrasana.
---
Breath.
Inhale while assuming the kneeling position.
Exhale while bending backward and while returning to Vajrasana.
---
Duration.
---
Concentration.
---
Benefits.
This asana is beneficial for the digestive, excretory, and reproductive systems. It stretches the stomach and intestines, eliminating constipation. It is useful for removing backache, lumbago, and rounded back.
---
EE MEDITATION ENLIGHTENMENT TEXTS