EE Meditation removes blockages and increases your energy
The EE Meditation technique is a fusion of techniques Guided meditation and differs from other techniques, such as Transcendental meditation, by guiding the energy flow through the body, grounding blockages, negative emotions and negative energy. It forms a key part of the Energy enhancement process
Any meditation technique should ground your negative blockages and emotions, and immediately increase the amount of Universal energy (known as Ki, Chi, Prana, or the Force) that flows through you. With increased practice it should enable you to can access and develop your psychic powers, and get in touch with your life path.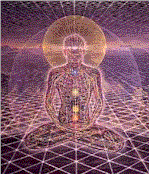 The Energy Enhancement meditation technique is a fusion by Satchidanand practice of Zen Meditation with Zen Master Roshi Hogen, Yoga Meditation with Swami Satchidananda, and with other Yoga Masters in India. He has integrated his thirty five years experience into a technique that includes the ancient effective and often hidden techniques, including the Kundalini Kriyas and the Taoist Microcosmic orbit, as well as less know techniques.
The meditation technique includes the secret guided meditation that are practiced by higher practitioners, but not explained in most Zen, Yoga or Transcendental classes.
The meditation technique has been taught by Satchidanand to students for over twenty years in a series of easy steps in the Meditation retreat, or via a home study course.
The Ancient hidden principles behind the Energy Enhancement technique are also fully described in the downloadable Energy Enhancement book.
A free chapter is available.