| | |
| --- | --- |
| Seeds of Light Foundation | |
Rice.
---
Rice is an essential nutritional source for the holistic and macrobiotic vegetarian health diet.
A health conscious vegetarian diet is rich in rice. Health advisors and macrobiotic nutrition experts inform us that rice contains a wide variety of B vitamins, valuable minerals, such as potassium and phosphorus, and protein.
Brown rice is richer in these health promoting nutrients than white rice. A balanced supply of these nutrients in our diet is essential for holistic health.
Rice is not exceptionally high in calories. Both brown and white contain only about 35 calories per oz/25 g when cooked. Even if you are trying very hard to slim or diet, you should never exclude rice and other grain products from your diet altogether, for they provide many essential nutrients that are required for optimum health.
A diet that includes rice combined with pulses will provide a health conscious vegetarian meal relatively low in calories that will fill you up and satisfy part of your daily nutritional intake.
Buying and Storing
Long grain is the most versatile kind in the kitchen and it is a good idea to have a supply of either ordinary long grain white or long grain brown in the larder: the brown will probably appeal more to those families who eat a diet that is rich in health promoting wholefoods. Both types can be used in similar recipes.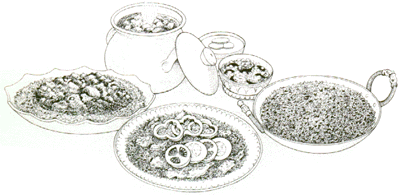 Once opened, store in rigid containers in a cool, dry place. White will keep for at least 18 months when stored correctly, though certain speciality rice may have a shorter life. For brown, look for the 'best before' date on the pack, as this is a useful guide.
How much per portion?
It swells a great deal as it cooks and what appeared to be a very small amount when put in the pan quickly becomes sufficient to feed several people. In the average diet, an average amount per person is 2 oz/50 g of uncooked for savory dishes.
When cooked it will weigh 6-8 oz/175-225g.
Try this amount on your family at first, and increase or decrease the amount according to their preferences.
Types of Rice To Include in Your Vegetarian or Macrobiotic Diet.
Name.

Appearance and Taste.

Cooking and Serving Suggestions.

Easy-cook American.
Long grain, slightly yellow in colour. Specially processed to make cooking easier and to keep grains separate.

Plain or flavoured accompaniment to savoury dishes.
Fried rice.
Moulds and salads.

Easy-cook Italian.
Longish, thick grains, a transparent yellow colour. Creamy texture when cooked.

Cooked plainly, as an accompaniment.
In risottos.

Long Grain white (also called patna rice).
Long, thin white grains usually from the USA.

Boiled rice as an accompaniment.
For salads, fried rice and chinese dishes, paellas, pilaffs and pilavs.
Rice moulds.

Short Grain.
Short, thick grains.

Used mainly in the production of sweet rice pudding.

Basmati.
known as 'The Prince of Rice'.
White rice from India and Pakistan; slightly smaller grains than ordinary long grain white, and has a different flavour. Very rarely sticks in cooking. Sometimes sold with an accompanying packet of curry spices, to make pilau.

Served as an accompaniment to Indian dishes.
Can be coloured and flavoured.
In pilaus and biryanis.

Brown.
Long, thin, brown grains. Nutty flavour, more chewy than white. Grains rarely stick in cooking. More nutritious than white.

Plainly cooked, as an accompaniment to savoury dishes.
As fried rice, salads, pilaffs, pilavs, paellas.

Flavored.

Curry, Tomato, Saffron, Golden Vegetable, etc...

Long grain flavored with various spices and vegetables.

Serve as required.

Risotto.
Carefully, selected Italian long grain rice.

Use for creamy moist risottos in traditional Italian style.

Boil-in-the-bag.
American long grain easy-cook rice. Easy, non-stick, and convenient.

Use as for Easy-cook American rice.

Creamed, canned.
A creamy-textured, ready prepared pudding.

Serve by itself, or with fruit.

Flaked.
Thin, white flakes.

Boiled, baked, or moulded puddings.

Ground.
Coarse, cream-coloured flour.

Baked, boiled, or moulded puddings.
Can be added to shortbread mixes and some cakes.
---
EE MEDITATION ENLIGHTENMENT TEXTS