Asana, Pranayama, Mudra, Bandha.
Mooladhara Chakra.
---
Mooladhara is the lowest of the chakras. It is known as the root center (mool - root, adhara - place). There are also centers below mooladhara, which represent the lower animal levels of consciousness. These are active in animals, but dormant in human beings.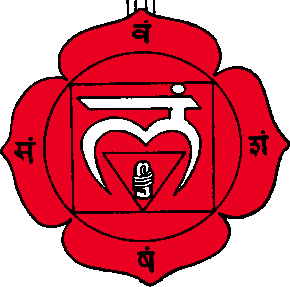 Mooladhara is symbolized by a deep red lotus with four petals, upon which are inscribed the mantras am, yam, sham, sham, sam. In the center is a yellow square and the bija mantra lam. In the center of the square is a red triangle with its apex pointing downward. Within the triangle is the smoky coloured swayambhu linga, encircled by a golden serpent with three and a half coils. The triangle is riding on an elephant with seven trunks which symbolizes the stability and solidarity of earth. The presiding deities are Brahma, the creator of the universe, and goddess Dakini, who is the controller of the skin element of the body.
Mooladhara is called the root center because it is the seat or dwelling place of primal energy, kundalini shakti. The kundalini is in the form of a serpent in deep sleep, coiled around swayambhu linga. It is the source of all energy in man and the universe, whether sexual, emotional, mental, psychic or spiritual. Energy (Shakti) is only one, however, the center through which it manifests itself gives it various qualities and attributes.
To awaken this energy through self-purification and concentration of mind, and to lead it up to the higher chakras and ultimately to sahasrara, where, as pure energy (Shakti), it unites with the pure consciousness (Shiva), is the one part of yoga.
Understanding the 6 aspects
of the
Complete Mind of God
(The Forms of God: chakras 1,2,3,5,6,7)
is essential
for a happy human life.
BUT...
...to realise
THE VERY SOURCE OF THE MIND
your True Identity as
THE FORMLESS GOD
IN THE INFINITE AND ETERNAL HEART
OF
THE HEART CHAKRA
is the Ultimate Realisation and Aim of Human Life.
THE AIM OF HUMAN LIFE
IS GOD REALISATION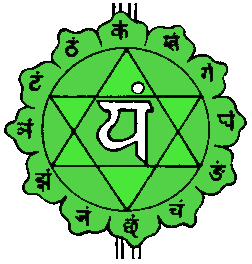 I AM IN YOUR HEART
The Pot of Gold is in the Centre of The Rainbow!
---
---
---
EE MEDITATION ENLIGHTENMENT TEXTS