All Attachment - but One - Leads to Pain.
---
What does this mean? It means that when we are experiencing this life of diversity and variety, it is better not to get attached to the flow of the stream of life.
We can learn to experience the 5 chakras of diversity and variety (chakras 1, 2, 3, 5, 6), but we are not attached to them as our identity. We realise that the 5 chakras of the mind (chakras 1, 2, 3, 5, 6) are always in a state of change, change is their nature.
How can we expect happiness to being attached to that which is always changing? We can't. With a mind of desirous attachment (the ego) we will always experience disappointment as that which we cling to disintegrates. Chakras 4 (heart) and 7 (crown) are the permanent, unchanging qualities of existence - Universal Peace and Universal Love.
The thought-form of attachment creates all the pain, suffering, and sorrow. Does this make sense? When we begin to get attached - to a moment, a thing, a person, to this life, etc..- it is good to be able to catch and dissolve the attachment.
Attachment is not love. Attachment is possession, clinging, fear, desire, and aversion. The thought-form of attachment is simply the root of the tree of the ego.
Being non-attached does not mean being an aloof non-participant in life. On the contrary, non-attachment means that we can love more, be more involved on the stage of life, develop a mind and heart of love for the EXPERIENCER OF ALL THIS CHANGE (GOD), but realising that the appearances, the creations and the diversity on the stage, will change.
Living in the world but always realising it's true nature. As a diverse and various appearance of mind. Being in the world, but not of it.
A good method of dissolving attachment is to fully realise your own true identity, to be able to without doubt answer the question "Who am I?" Without being able to answer this question, without knowing about our transcendent self - our connectivity and relationship with the Absolute nature of life - then we will misidentify with the human body/mind instrument. We will get attached to the body and the personality. Then the ego - selfish desire - gets big. Then we fall into the hell of selfish egoism which clouds the light of our soul and The Spirit.
This is why we need to realise the Self in All Things. Realise the Spirit, Source of All Diversity, One Omnipotent God that is the True Identity of All The Creation - All this mindstuff, All this dreamlike appearance of variety.
When we realise that the perceiving awareness that is behind this body/mind/personality is our Soul and that our Soul is naturally in relationship with God, and that God's awareness is shared by all things in the Creation, and that God's consciousness and energy is the Source of all the many diverse and varied lives ( the Creation), then breaking attachment with the impermanent state of diversity - loosening the grasping hyper-possessiveness of the ego - is far easier.
There is one attachment that leads away from all states of egoistic and selfishly motivated pleasure and pain, living and dying, and that is the attachment to our True Self - to the perceiving awareness behind this play of diversity - our attachment to our Soul and to God, Self, Brahman. Realization of the pure, blissful, unalloyed consciousness, that which is without name or form. Attachment to this real and permanent identity is to be understood and nurtured for it is the path beyond all sorrow, the way home.
All other egotistical and selfish attachment, to the impermanent ever-changing diversity, can by its nature only bring disappointment and thus pain and sorrow.
Eliminating our egotistical possessiveness and attachment to the things in this human-life-experience actually allows us to participate and enjoy things more fully. We know that we are that peaceful and ever blissful consciousness behind the appearance of diversity (Mind), we know that: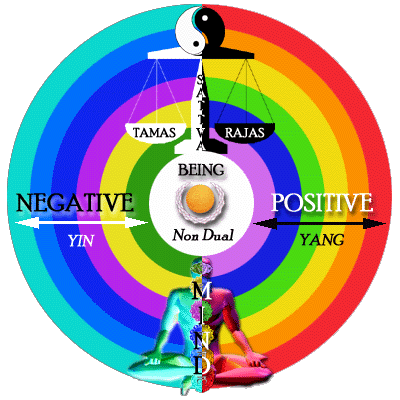 Neti, Neti
(not this diversity, not this play and changing of names and forms.)
Aham Brahman Asmi
(I am that pure, unalloyed, happy and peaceful consciousness)
ENERGY ENHANCEMENT TEACHES ABOUT THE MASTERY OF RELATIONSHIPS IN LEVEL FOUR OF ENERGY ENHANCEMENT
---
---
FREE!! - EIGHT FREE ENERGY ENHANCEMENT MEDITATION GIFTS
Weekly Email Service of Right On Spiritual Texts and Pointed, Pungent and Humorous Stories.
YOGA, Energy Enhancement and Meditation.
SIGN UP NOW FOR THE "ENERGIES" NEWSLETTER
YOU GET EIGHT FREE ENERGY ENHANCEMENT MEDITATION GIFTS
FREE REPORTS - WHAT THE OTHER MEDITATION COURSES WILL NEVER TELL YOU

HOW TO HEAL TRAUMA AND CLEANSE YOUR KARMA.

FREE ONLINE ENERGY ENHANCEMENT E-Book

FREE ENERGY ENHANCEMENT VIDEO - YOGA SUTRAS BY SATCHIDANAND Download size 426mb

FREE!! 90 MINUTE TALK - ENLIGHTENMENT BY SATCHIDANAND Download size 11MB

FREE MEDITATION ENERGY ENHANCEMENT DANCE VIDEO ONE Download size 34MB

FREE MEDITATION ENERGY ENHANCEMENT DANCE VIDEO TWO Download size 38MB

FREE MEDITATION ENERGY ENHANCEMENT DATABASE ACCESS ONLINE 200MB

FREE Weekly Email Service of Right On Spiritual Texts and Pointed, Pungent and Humorous Stories.
Fill in the Form BELOW!!
EE MEDITATION ENLIGHTENMENT TEXTS