What have you done, Mr Sufi?
---
There are a lot of good and moral people in society who know how impossible it is to fight the powerful, yet many of them try.


Story…
There is a Sufi story of a man who came to a Sufi Master and said pretty much what I have said here. "With all the cheating and lying, unfairness, anger and war, this world is a mess. What are you doing to help it?"
The Sufi Master replied "If we had not been helping, this world would have been a radioactive cinder, thousands of years ago!"
…End
Some of them choose to " Turn on, tune in, and drop out". They just know how it works. But whatever their field of work " As within, So without" the fruits of their inner work are reflected outside.
Ajna chakra is tremendously powerful and as yet, it has not been used to its full potential.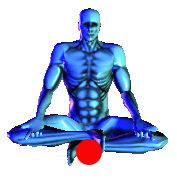 Position of the Base Chakra.
Only when base chakra fear is dissolved can the head chakras start to communicate.
---