OSHO Dhammapada-Buddhism-Buddha
THE DHAMMAPADA: THE WAY OF THE BUDDHA, VOL. 5
Chapter 10: This mad, mad game
Question 5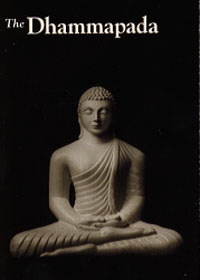 Energy Enhancement Enlightened Texts Dhammapada The Way of the Buddha, Vol. 5
The fifth question:
Question 5
BELOVED MASTER,
DID YOU SAY TODAY THAT THE PATH OF MEDITATION WAS FOR SPIRITUALLY MASCULINE PEOPLE? I AM CONFUSED AS BUDDHA, LAO TZU AND ALL THESE PEOPLE SEEM TO BE MORE FEMININE. PLEASE EXPLAIN.
Anand Dharmen, you are right and yet wrong. You are right because Buddha and Lao Tzu ARE feminine, but they are feminine when they have attained to the ultimate peak of meditation -- at the peak they are feminine. At the peak everybody is feminine, only God is masculine. At the peak only God is "he," everybody is a she.
There is a beautiful story about a great woman mystic of India, Meera. She was really a mad devotee, a mad BHAKTA, in tremendous love and ecstasy with God. She was a queen, but she started dancing on the streets. The family disowned her. The family tried to poison her -- the family itself -- because it was a disgrace for the royal family. The husband was feeling embarrassed, very much embarrassed, and particularly so in those days. And the story belongs to one of the most traditional parts of this country, Rajasthan, where for centuries nobody had seen women's faces; they were covered, always covered. Even the husband might not have been able to recognize his wife in the daylight, because they were meeting only in the night, in darkness.
In those days, in such a stupid climate, in such a milieu, the queen started dancing on the streets! Crowds would gather, and she was so drunk with the divine that her sari would slip down, her face would be exposed, her hands would be exposed. And the family was obviously very much perturbed.
But she sang beautiful songs, the most beautiful ever sung in the whole world, because they came from her very heart. They were not composed, they were spontaneous outpourings.
She was a devotee of Krishna, she loved Krishna. She told her husband, "Don't go on believing that you are my husband -- my husband is Krishna. You are not my husband, only a poor substitute."
The king was very angry. He expelled her from the kingdom; she was not allowed to enter the territory. She went to Mathura, the place of Krishna. Krishna had died thousands of years before, but for her he was as alive as ever. That is the mystery of love: it transcends the barriers of time and space. Krishna was not just an idea to her, he was a reality. She talked to him, she slept with him, she hugged him, kissed him. Nobody else could see Krishna, but she was absolutely aware of him.
Krishna represented to her the very spirit of existence, what Buddha calls dhamma, the law. That is the masculine formation, the masculine expression: the law. Meera calls Krishna "my beloved" -- not law but love; that is the feminine heart.
She reached Mathura; there is one of the greatest temples of Krishna. And the head priest of that temple had taken a vow that he would not see any woman in his life; for thirty years he had not seen a woman. No woman was allowed to enter into the temple and he had never left the temple.
When Meera reached there, she danced at the gate of the temple. The guards became so enchanted, magnetized, that they forgot to prevent her. She entered into the temple; she was the first woman after thirty years to enter the temple.
The head priest was worshipping Krishna. When he saw Meera he could not believe his eyes. He was mad. He shouted at her, "Get out of here! Woman, get out of here! Don't you know that no woman is allowed here?"
Meera laughed and said, "As far as I know, I know that except God everybody is a woman -- you too! After thirty years of worshipping Krishna, do you think you are still a male?"
It opened the eyes of the head priest; he fell at the feet of Meera. He said, "Nobody has said such a thing ever before, but I can see it, I can feel it -- it is the truth."
At the highest peak, whether you follow the path of love or meditation, you become feminine. So you are right, Dharmen, that Buddha and Lao Tzu, all these people seem to be feminine, because you know them only when they have reached the highest peak. But you don't know their path, you don't know their journey. Their journey was masculine, it was not feminine.
Another story will help you:
A king was very much interested in the ideas of Moses; Moses was alive. The king said to the court painter, "Go and paint an absolutely realistic painting of Moses as he is. I would like his picture to always be in my bedroom."
The painter went. It took six months for him to do a really realistic painting. But when he came back with the painting, the king was puzzled, the whole court was puzzled, because the face of Moses looked like that of a murderer, that of a thief, that of a criminal.
He said, "You say this is the painting you have done in six months? The face looks like Moses, but it can't be Moses' face. I know the man, I have seen him with my own eyes! Yes, the outer lines are exactly like his face, but the gesture, the expression, it is not that of Moses!"
The painter said, "But you have told me to be very realistic, so I have not created any fiction around him. As he is I have painted him; this is just an exact replica. Now I am not responsible. If you find any difficulty in it, you ask Moses."
The painter, the king, the court, they all traveled. They went to Moses, the painting was brought to him and the king asked, "Sir, I have known you for years -- you are the most graceful man I have ever seen in the world. There may never be such a graceful man again... and this is the painting! My painter is a great painter, there is no doubt about it. He has never made any fault like this. He has painted my father, my mother, and thousands of other paintings -- he has painted me. And he is absolutely exact, whatsoever he has done. But with this painting we are not satisfied -- not only not satisfied, I am angry at him. Your face looks like that of a murderer, a thief or a criminal."
Moses said, "You are both right. Now, looking at me, you will see grace. But your painter has painted with such acuteness that he has caught my whole life in the painting. Yes, for the first time I am confessing: once I killed a man. I am a murderer. I have never told this to anybody else. And I have been, in my past, all the things that your painter has painted; they have left their subtle marks on my face. You cannot see them because you don't have the eyes which your painter has. So your painter is right: he has depicted my whole history. It is not only my present face but all the faces that have been there before. And you are also right, because it does not correspond to my present face -- but I have to agree with your painter."
It is a very significant story. At the peak a person is transformed, but on the path he may have been a totally different person.
Yes, I did say that the path of meditation was for spiritually masculine people. In India, the Buddhists and the Jainas have followed the path of meditation. All the twenty-four TIRTHANKARAS, the great masters of the Jainas, were warriors. They belonged to the KSHATRIYA caste, the caste of the warriors; they were not brahmins. Buddha himself was not a brahmin; he was a kshatriya, a warrior. These warriors followed the path of meditation; they were as masculine as possible. Their whole training was that of the warrior. But at the ultimate peak they certainly were transformed: they became feminine. You can't find a more feminine man than Buddha. They became so feminine, they became so soft, so vulnerable, so beautiful, so graceful, so rounded -- they lost all the corners, all roughness. They became like lotus flowers -- the East has painted them without mustaches, without beards.
Have you ever seen a statue or a painting of Buddha with a beard and mustache? Not that some hormones were lacking in him, not that he could not grow a beard. I know him perfectly well -- he had a beautiful beard! But we have left it out because it does not represent his inner reality. His inner reality has become so feminine that we had to make his face according to the inner. The inner cannot be painted; it can only be painted symbolically. That's why Rama, Krishna, Mahavira, Buddha, none of them is painted with a beard, a mustache, no.
And one thing more: nobody is painted as bald. And I know perfectly well, they were all bald! But women don't go bald, hence the mustache and the beard have been taken away, and instead hair has been added to their baldness -- the same hair maybe, take it away from the beard and put it on the head.
So your question, Dharmen, is right in a way, and yet not right. The man on the path is one thing, and the same man at the peak is a totally different person, transformed, transmuted.
Next: Chapter 10: This mad, mad game, Question 6
Energy Enhancement Enlightened Texts Dhammapada The Way of the Buddha, Vol. 5