Add to Onlywire
OSHO Dhammapada-Buddhism-Buddha
THE DHAMMAPADA: THE WAY OF THE BUDDHA, VOL. 1
Chapter 6: Through a glass darkly
Question 4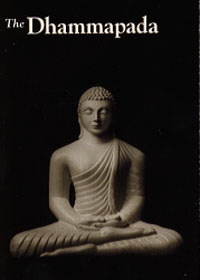 Energy Enhancement Enlightened Texts Dhammapada The Way of the Buddha, Vol. 1
The fourth question:
Question 4
BELOVED MASTER,
I OFTEN READ THE 'HYMN TO LOVE' IN THE NEW TESTAMENT. IT SEEMS TO ME THAT THIS IS EXACTLY YOUR MESSAGE. ALSO, IT IS SIGNIFICANT THAT IT NEVER ACTUALLY USES THE WORD 'GOD'. I CAN FIND NOTHING TO CONTRADICT YOUR BASIC MESSAGE IN THIS LOVELY POEM. ON THE OTHER HAND, IT SEEMS TO BE EXACTLY WHAT YOU ARE SAYING IN YOUR DISCOURSES. AM I RIGHT?
YOU HAVE SUCH A BEAUTIFUL VOICE THAT IT WOULD BE REALLY NICE TO HEAR YOU SAY SOME OR ALL OF IT, ESPECIALLY AS I FEEL YOU WILL SOON STOP TALKING PUBLICLY ALTOGETHER. HERE IS A COPY OF THE HYMN.
Premartha, the message of all the buddhas is always the same because the truth is one. Expressions may differ, different languages may be used, but that which is indicated towards is the same.
Millions of fingers can point to the same moon. Fingers are bound to be different -- my finger is different from the finger of Jesus or Buddha or Moses or Abraham -- but the moon is the same. And this hymn is a beautiful finger pointing to the moon. It is the very essence of all the teachings of all the buddhas of all the ages -- past, present, and future too.
THOUGH I SPEAK WITH THE TONGUES OF MEN AND ANGELS, AND HAVE NOT LOVE, I AM BECOME AS SOUNDING BRASS OR A TINKLING CYMBAL. AND THOUGH I HAVE THE GIFT OF PROPHECY, AND UNDERSTAND ALL MYSTERIES, AND ALL KNOWLEDGE; AND THOUGH I HAVE ALL FAITH, SO THAT I COULD REMOVE MOUNTAINS, AND HAVE NOT LOVE, I AM NOTHING. AND THOUGH I BESTOW ALL MY GOODS TO FEED THE POOR, AND THOUGH I GIVE MY BODY TO BE BURNED, AND HAVE NOT LOVE, IT PROFITETH ME NOTHING.
LOVE SUFFERETH LONG, AND IS KIND; LOVE ENVIETH NOT; LOVE VAUNTETH NOT ITSELF, IS NOT PUFFED UP, DOTH NOT BEHAVE ITSELF UNSEEMLY, SEEKETH NOT HER OWN, IS NOT EASILY PROVOKED, THINKETH NO EVIL; REJOICETH NOT IN INIQUITY, BUT REJOICETH IN THE TRUTH; BEARETH ALL THINGS, BELIEVETH ALL THINGS, HOPETH ALL THINGS, ENDURETH ALL THINGS.
LOVE NEVER FAILETH: BUT WHETHER THERE BE PROPHECIES, THEY SHALL FAIL; WHETHER THERE BE TONGUES, THEY SHALL CEASE; WHETHER THERE BE KNOWLEDGE, IT SHALL VANISH AWAY. FOR WE KNOW IN PART, AND WE PROPHESY IN PART. BUT WHEN THAT WHICH IS PERFECT IS COME THEN THAT WHICH IS PART SHALL BE DONE AWAY. WHEN I WAS A CHILD, I SPAKE AS A CHILD, I UNDERSTOOD AS A CHILD, I THOUGHT AS A CHILD; BUT WHEN I BECAME A MAN, I PUT AWAY CHILDISH THINGS. FOR NOW WE SEE THROUGH A GLASS, DARKLY; BUT THEN FACE-TO-FACE. NOW I KNOW IN PART, BUT THEN SHALL I KNOW EVEN AS ALSO I AM KNOWN. AND NOW ABIDETH FAITH, HOPE, LOVE, THESE THREE; BUT THE GREATEST OF ALL THESE IS LOVE.
These are the essential qualities of a religious person. This is my message -- this is the message!
The language is old, and because it is old it has a beauty of its own, because the older the language is, the more poetry it has. As we have become more and more scientific our language has also become more and more scientific.
As the hymn is two thousand years old, it has something of primitive innocence in it, the childlike quality of wonder, of being surprised at the mysterious. But, Premartha, you are perfectly right: there is nothing in it which contradicts me, and there is nothing in it which I would like to contradict either. Whosoever said it must have been an awakened one.
But don't go on simply repeating it. It is beautiful to repeat, it is beautiful to sing it, but not enough. Practice it, let it become the very flavor of your life. Let it be dissolved into your blood, into your bones, into your marrow. Let it surround you like an invisible aura. Don't go on simply repeating it. It is beautiful -- and that is the danger. You can become so charmed, so hypnotized by its beauty, that you may go on repeating it your whole life. And the more you repeat, the more beautiful it will look...because these ancient messages have tremendous power and many layers of meaning.
But don't go into the linguistic or philosophical analysis of it. It is a prayer! -- and a prayer is not something to be said but something to be felt. A prayer is not something to be read but something to be lived. Live it!
It is true: AND NOW ABIDETH FAITH, HOPE, LOVE, THESE THREE; BUT THE GREATEST OF ALL THESE IS LOVE.
You can think about love, you can have beautiful flights of imagination about love, you can have beautiful dreams about love, but that is not going to help. What is going to help is, you have to become love. Love has to become your essential core. Everything else has to be sacrificed to love, everything else has to become part of your loving life.
Then only will this prayer be true for you. And then it will not be Christian, then it will not belong to the New Testament. It will be something that is part of your heart; you will breathe it. And whosoever will come close to you will have a little glimpse of it. A little light will be shed on everybody's path...if you live it.
Scriptures can be understood only if first they are practiced. People do just the opposite: they read the scripture and they try to understand it. Intellectually it is not difficult to understand those scriptures, they are simple. People become very proficient, very efficient, in repeating the scriptures -- and they end with that. They remain parrots.
And what can you understand about it? Intellectually whatsoever you understand will not be right, because it will reflect your state of mind, not the state of the mind who uttered these words.
A retired cattle rancher, aged sixty-five, who had sold his ranch and come to New York to see the sights, checked into a midtown hotel.
Once upstairs, he made himself comfortable and relaxed on the bed. While he was resting, he saw the door slowly open, and there standing before him was a curvaceous blonde attired only in a sheer negligee.
"Oh," she apologized when she saw the old fellow, "I must be in the wrong room."
"No," he corrected, "you are in the right room, but you are about forty years too late!"
The interpretation is always going to be yours. You can read Jesus, you can read Buddha, but who is going to interpret it? You will interpret it. And what is your understanding? What light have you got? Those beautiful sayings will remain just beautiful sayings, beautiful nothings. Yes, good poetry, but poetry cannot liberate you unless it becomes your own experience, unless you can become a witness to the scriptures.
"Your continual unfaithfulness proves you are an absolute rotter," stormed the outraged wife who had just caught her husband for the seventh time in a sportive romp with another woman.
"Quite the contrary!" came the cool reply. "It merely proves that I am too good to be true."
Your interpretations will always reflect you. When you look in the mirror you will be looking at your face, you will be looking at yourself. You can't see the mirror, you can only see your face reflected in it. You will be able to see the mirror only when you have lost your face, when you have lost your head, when you are not. When you have become a nothing, a nobody, then stand before a mirror and you will see the mirror and its mirroring and you will not be mirrored in it, you will not be reflected in it. You will not be present there. Before you become an absence, going before the mirror is of no use.
And that's what people go on doing: reading the Bible, the Koran, THE DHAMMAPADA, they read themselves.
The worried mother was lecturing her teenage daughter on the subject of sex morality. "Of course I realize you may be tempted while you are out on a date. If you are, dear, please ask yourself this all-important question: is an hour of pleasure worth an entire life of humiliation?"
"Gosh, mother," asked the daughter, "how do you make it last an hour?"
Remember always, you cannot understand Jesus, Moses, Zarathustra. Your face will come in it too much.
A newly wed patient was complaining to his doctor about his marital relations. It seems the first time he makes love to his spouse it is just wonderful, but the second time, he is perspired and sweaty.
The medicine man decided to consult the wife. "Isn't it odd," the medico asks the missus when she arrives, "that it is just wonderful the first time and the second time he is all perspired and sweaty?"
"Why should it be odd?" she smirks. "The first time it is in January and the second time it is July!"
You cannot go directly into the sayings of the buddhas. First you will have to go inside yourself. The basic encounter has to be with your own originality, and then all the buddhas will become clear to you. And then one thing more starts happening: then Jesus and Buddha and Moses and Mohammed are not saying different things -- they are saying the same things.
Unless a person becomes a witness to the ultimate truth himself, he will go on thinking that Buddha is saying one thing and Jesus is saying something contrary; that Buddhism is against Hinduism, that Hinduism is against Jainism, that Jainism is against Mohammedanism. Unless you witness the truth you will go on believing these three hundred religions, and you will be part of the quarrel, the conflict, the antagonism that goes on between these religions continuously. The day you see the truth of your own being, all these three hundred religions simply disappear, evaporate.
Once -- just like Premartha -- a Christian missionary went to see a Zen master. He wanted to convert the Zen master, so he had brought the Sermon on the Mount with him. He started reading the Sermon on the Mount: he had read only the first two or three sentences, and the Zen master said, "Stop! Whosoever said it was a buddha!"
The missionary was surprised. He said, "But these are the words of Jesus!"
The master said, "It doesn't matter what the name of the buddha is, but whosoever said this was a buddha. He had arrived."
And I say this to you because I know too. Once you have tasted, you will know. In whatsoever form the truth comes you will immediately recognize it. But first become a witness.
Next: Chapter 6: Through a glass darkly, Question 5
Energy Enhancement Enlightened Texts Dhammapada The Way of the Buddha, Vol. 1