Add to Onlywire
OSHO Dhammapada-Buddhism-Buddha
THE DHAMMAPADA: THE WAY OF THE BUDDHA, VOL. 1
Chapter 4: Just lucky, I guess!!
Question 3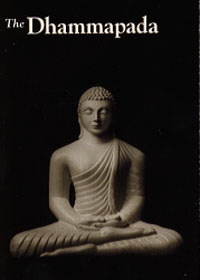 Energy Enhancement Enlightened Texts Dhammapada The Way of the Buddha, Vol. 1
The third question:
Question 3
BELOVED MASTER,
MY PARENTS WERE CHRISTIAN MISSIONARIES IN INDIA FOR TWENTY-FIVE YEARS. MY BROTHER WAS A JUNKIE, MY SISTER A COMPULSIVE LIAR. AS FOR ME, I AM SO SERIOUS THAT IF I SMILE MY MOUTH HURTS. HOW DID I END UP HERE?
Prem Parijat, just lucky, I guess! You will live in ecstasy and you will die in ecstasy.
Did you hear about the man eighty-seven years of age who married a nineteen-year-old girl?
He died of a new disease called ecstasy. It took them three days to wipe the smile off his face.
Now, this is going to happen to you too: living your life will be a laughter; dying, it will be difficult for the people to wipe off your smile.
It may be just because your parents are Christian missionaries that you have landed here, because to be born to any kind of missionaries -- Christian, Hindu or Mohammedan -- is to be fed up with all that nonsense. To be born to a priest is to know one thing for certain: that priests don't believe in God. It is their business; they pretend.
It is a rare opportunity to be born in the house of a priest, because children are very perceptive and they can see through and through that all that nonsense that their father in preaching is just preaching -- he does not mean it because he never practices it. The children of the priests are bound to become aware of the hypocrisy of the so-called religious people.
It may be just because of it, because it is almost impossible to be in the house of a priest and not to know that he is the most irreligious person possible in the world.
Priests are exploiting religion. They are exploiting people's trust. They are the greatest cheaters in the world, because to exploit people's trust is the greatest crime. You are destroying their trust. But they live on that kind of cheating; that is their whole trade secret.
The bishop was very proud of an elegant mansion he had constructed as his official residence. One day, a friend and the bishop were engaged in conversation and the bishop was pursuing a seemingly atheistic train of thought....
That kind of thinking is becoming very prevalent in Christian circles: religionless religion, Godless Christianity -- these are being talked about, discussed. After Friedrich Nietzsche, who declared that God is dead, Christianity has been in a turmoil -- what to do now? They have been trying every possible way to create a Christianity which does not need God anymore, so that the profession can expand again.
Now God has become a barrier; the moment you assert the word 'God', you put people off. So Christian theologians are discussing, thinking, meditating, how to create a Christianity that does not need God at all. And it is possible! -- because Buddhism is there without any God, and Jainism is there without any God, so why can't there be a Christianity without God?
...This bishop was pursuing a seemingly atheistic train of thought. The friend asked him, "Bishop, do you believe in God or not? Say it exactly, say it in short. Don't go round and round. Say simply yes or no -- do you believe in God?"
After a long hesitation, the bishop replied, "Of course I do! Who do you think paid for this house?"
Now, the house that he has made, a beautiful mansion, is possible only because people still believe in God; and because they believe in God, they believe in the bishop. He cannot publicly declare there is no God. If you drop God, then Jesus is no longer the Son of God, then the pope is no longer the representative of Jesus, and so on and so forth. And they all go down the drain. It needs a hierarchy: God at the top and the priest at the bottom, the whole ladder.
And the priest certainly knows that there is no God. If he was aware that there is a God, he would not have been a priest in the first place -- he would be a Jesus, he would be a Buddha, but not a priest. He would be a prophet but not a priest. He would bring something of the unknown into people's lives, but he would not be part of a status quo, he would not be part of the established church. No man of understanding, no man who has some religious consciousness and experiences, can be part of any established church. It has never happened. Buddha has to leave his fold, Jesus has to leave his fold, Mohammed has to leave his fold -- this has always been so. Whenever a religious man is born, he has to leave his fold, because the fold is already in the hands of the politicians and the priests, whose whole interest is in exploiting people.
Anand Moksha has written to me:
During the time of the major earthquakes in Guatemala in 1976, the Catholic bishop at Lake Atitlan befriended me and allowed me to stay in his garden for a while.
A few months passed and after-shock tremors were still common. At that time I discovered that a beautiful house on a hillside was for rent for very little money. The reason was that a large boulder ominously overhung the house and people were afraid. I felt the vibes and it seemed okay to me -- so I rented the place.
When I told the bishop, he reacted with nervous dismay and swung his arms about, saying, "Aren't you worried about that rock tumbling down on the house?"
I replied, "If the Lord wants to take me, he will."
The bishop shrugged his shoulders and said, "You don't believe that, do you?"
It may be simply, Parijat, that just because you were born of Christian missionaries it became possible for you to be here. Christian missionaries, and twenty-five years in India! -- that is too much. In the first place, Christian missionaries and in the second place, twenty-five years in India...that is enough, more than enough, to convince the children that their parents are pseudo, that they are talking business, that they don't believe.
It is not a question of belief at all.
I have heard a small story:
In a school, a Christian missionary school, the teacher asked the children, "Who is the greatest man in history?"
An American boy says, "Abraham Lincoln."
A Mohammedan boy says, "Hazrat Mohammed."
A Hindu girl says, "Lord Krishna."
And so on and so forth...and finally, the little Jewish boy stands up and says, "Jesus Christ."
The teacher could not believe her ears -- the Jew and saying Jesus Christ? She asked, "Do you really mean that?"
He said, "That is not the question. In my heart of hearts I know it is Moses -- but business is business."
To be with Christian missionaries for twenty-five years, and in India, and seeing what they are doing, is enough to disillusion you. The whole credit goes to your parents and their twenty-five years in India. They have brought you here -- be thankful to them.
Next: Chapter 4: Just lucky, I guess!!, Question 4
Energy Enhancement Enlightened Texts Dhammapada The Way of the Buddha, Vol. 1