Add to Onlywire
Dhammapada-Buddhism-Buddha
THE DHAMMAPADA: THE WAY OF THE BUDDHA, VOL. 1
Chapter 8: The beginning of a new phase
Question 3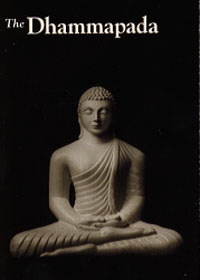 Energy Enhancement Enlightened Texts Dhammapada The Way of the Buddha, Vol. 1
The third question:
Question 3
BELOVED MASTER,
EVERY TIME YOU HAVE SPOKEN ON A MASTER, I HAVE FELT YOU TO BE IN LOVE WITH THAT MASTER AND YOU FLOWING THROUGH HIS SUTRAS. IN THIS SERIES THOUGH, I FEEL YOU STANDING APART FROM THE BUDDHA AND NOT REALLY IN LOVE WITH HIS WORK.
IS SOMETHING CHANGING OR AM I IMAGINING THINGS?
Nishant, you are not imagining things. With me, you will have to be always on the move -- things will be changing. As you grow up I will be telling you things which I could not tell you before. It is not that my love for Buddha is less -- my love cannot be less or more; my love is just love, it is a quality, it has no quantitative dimension to it. It can never be less or more -- it simply is.
I love Buddha, I love Jesus, I love Zarathustra, I love Lao Tzu, I love Patanjali -- BECAUSE I love...because I love you, because I love the trees, because I love the birds. My love is not less.
And you are perfectly right that I am standing apart -- I will be standing apart more and more in the future. I am preparing for the new phase. The work has to take a quantum leap, and much preparation is needed. The work has to take on a totally different quality now. Now I have people with me of great trust, of love, people who are committed and surrendered.
In the beginning I was talking to the masses. It was a totally different kind of work: I was in search of disciples. Talking to the masses I was using their language; talking to the masses was talking to a primary class. You can't go very deep; you have to talk superficially. You have to look to whom you are talking.
Then, slowly slowly, a few people started turning from students to disciples. Then my approach changed. It was now possible to communicate on higher levels. Then disciples started changing into sannyasins -- they started becoming committed, they started becoming involved with me, with my destiny. My life became their life, my being became their being. Now communication took a jump: it became communion.
Now I have got enough sannyasins...the work will have to move deeper.
I was talking about Buddha before, and I was talking as if I was simply allowing him to flow through me. Now this is not going to be the case. This series is the beginning of a new phase.
Nishant, you have suspected rightly. Now I will have to make it clear what the points are in which I differ from Buddha, from Jesus, from Krishna. I have to make it very clear where I differ from them.
Twenty-five centuries have passed since Buddha. Much has happened since then -- much water has flowed down the Ganges. Everything has changed! If Buddha comes into the world he will not be able to recognize that it is the same world that he had left.
I belong to this century. In these twenty-five centuries many new things have been added. For example, Buddha knew nothing about science -- he could not. I am not saying that he should have known -- he could not! It was impossible. Albert Einstein had not happened yet. Buddha was not aware of many things of which we are aware, I am aware. I have to incorporate all those things. Sigmund Freud and Karl Marx and Albert Einstein and many more have to be incorporated. Religion has to become more and more rich every day.
I will have to make it clear where I differ. I will have to make clear what MORE I am trying to add to the religious heritage. I will not be just a vehicle anymore. That phase is complete. It was needed up to now, because I wanted...the people who loved Buddha, I wanted to approach them; the people who loved Mahavira, I wanted to approach them; the people who loved Jesus, I wanted to approach them.
Humanity is divided: a few are with Jesus, a few are with Buddha, a few are with Krishna...and so on and so forth. There are no free human beings available. I had to pick and choose from different sects, from different communities, from different religions. The only way was: to speak the way Buddha spoke, then only would a few Buddhists become involved with me; otherwise it would have been impossible for them, they would not have understood me. Now they have become involved with me it is going to be a totally different matter. Now their love has arisen for me, it is easy for me to say where I differ from Buddha and they will be able to understand. It won't create any trouble for them, it will not be confusing to them.
But remember, my love is not less because I am standing apart: my love is the same. My love is not going to change; it is not something that can change. But more and more it will happen: I will stand apart and separate.
Now I have got my own people. And I have to make it very clear where I differ, where I am trying to give something new, something more; where I am trying to enrich the heritage, where I am contributing. And sometimes I will have to criticize too -- but I love so much that I can criticize.
Sometimes I am going to criticize Buddha, Mahavira, Jesus. Not that I don't love them -- I love them, otherwise why should I speak on them? Even if I criticize them, that means my love is so much that I will take even that trouble, to criticize them.
Buddha has given much to humanity, but humanity is an on-going process. And everything that happens to humanity brings its advantages and also brings its disadvantages.
In this world, nothing can remain absolutely pure. When it rains the water is pure. The moment it touches the earth...in fact even before that: the moment it enters into the atmosphere, the polluted air starts contaminating it. The earth is surrounded by a thick layer of air; when the water enters into this layer of air, it starts becoming polluted. And when it falls on the earth it becomes muddy, it becomes dirty. Still it is water, but it is no longer pure.
That's what happens to every truth. When Buddha uttered something, it was absolutely pure. The moment it was heard by people it became impure. When it was recorded -- and remember it was recorded after many years, after three hundred years...now can you imagine that people can record after three hundred years exactly the same thing that Buddha said? It is impossible! People are people; they will automatically destroy it, distort it -- they will give their own colors to it.
The day Buddha died, his followers were divided into thirty-six schools -- immediately! Thirty-six interpretations. Nobody was agreeing on what he said, or even if they were agreeing about the words, they were not agreeing about the meaning that was given to the words.
I am reminded:
In the last year of his life, Sigmund Freud called all his disciples -- the important ones, the chief ones. He was feeling death coming close by, he must have heard the first steps of death, and he wanted to have a last gathering.
They were sitting at the table, nearabout thirty people from all over the world -- all the chief disciples -- and they started arguing about something that Freud had said a few days before. Freud was there! He was the host, but they completely forgot about Freud. They became so involved in the argument: somebody was saying one thing, and somebody else was saying something else, and somebody else was contradicting both. And they were arguing about what Freud really meant.... And Freud watched, listened, and then shouted, "Stop all this nonsense! Do you think I am dead? I am here, present -- why don't you ask me what my meaning was? And if you can do this to me while I am alive, what are you going to do when I am dead? You don't bother to ask me, and you have wasted one hour in arguing with each other, fighting, getting irritated, annoyed, shouting at each other...and the master is present!"
And Freud is not an enlightened man. If this can happen to an unenlightened person, what about the Buddha who speaks from the highest peaks of existence? The moment he utters something, it is no longer the same as it was in his heart. When it is heard, it is no longer the same as it was uttered. When it is interpreted, it is totally something else.
Many times I will criticize. Many times I will tell you about all the advantages and all the disadvantages that have happened. Buddha is the purest religious dimension, the purest possible, but how can I avoid saying that he is a one-dimensional man? If I don't say it, it will be untrue. If I don't say it, my love for truth is not total then. I have to say it, that he is one-dimensional -- the purest in his dimension, but he lacks the other dimensions.
He has no appreciation of beauty, not at all. He has no appreciation of music, not at all. He has no appreciation of love, not at all. The aesthetic dimension is missing, he has bypassed it. And he has no scientific approach; he cannot have -- science was not yet developed enough. He is one-dimensional purity, but one-dimensional.
And because he is one-dimensional, this whole country has remained one-dimensional. Buddha is one-dimensional, Mahavira is one-dimensional, Patanjali is one-dimensional. All the great religious masters of this country were religious people. They reached to the purest religious experience, and they tried to convert the whole country to their vision. But the disadvantage was that the country became poor. Without science no country can ever become rich. The country became outwardly ugly, starving, ill. Without science and technology, no country can be outwardly beautiful, healthy, affluent.
Now, I cannot avoid mentioning it -- that will not be true, and that will not be right either. That will be deceiving you! That will be a crime against humanity. It is time that somebody should have the guts to say it! Nobody in the whole world is doing it, and the time is ripe that somebody should shout and say that Buddha, Mahavira, Patanjali, Lao Tzu, are immensely beautiful people, and they have contributed much -- humanity would not have been what it is without them -- they are our very soul, that is absolutely true, but there is a disadvantage because they are all one-dimensional. Other dimensions have remained paralyzed, crippled. And now the time has come: other dimensions have to be fulfilled too.
I would like this country to become rich, scientific, technological, healthy, well nourished -- not only this country but the whole of humanity. And I don't see that it is against religion. On the contrary: the more rich a country is, the more religious it can become -- because richness gives you opportunity, richness gives you facility, richness gives you time and space and energy, to move inwards. If you don't move, that's your responsibility. Nothing is wrong in being rich. If a rich person is not religious, he is simply mediocre, stupid; it is nothing against richness: it is simply an indication that he is foolish.
If a rich person is not religious, I call him stupid; and if a poor person is religious, I call him intelligent, really intelligent. Rare intelligence is needed for the poor man to become religious. When a Kabir becomes religious he shows more intelligence than Buddha himself -- because it is impossible, almost impossible to become religious when you are poor. When you have not known what riches are, how can you get beyond them? One can go beyond a certain thing only when it has been experienced; it is only through experience that one surpasses and transcends. If somebody transcends without experiencing something, that simply means that he has such intelligence that he learns from others' experiences; he need not go into all those things on his own.
Kabir must have looked at the rich people and seen the futility of it all. Hence he dropped that ambition, that desire. Buddha was the son of a king; he lived richly, and through experience he came to understand that all is futile and all is vanity. He came through his own experience: Kabir came by watching others' experiences. Certainly, Kabir needs more intelligence.
Poor persons can become religious, but poor societies cannot become religious. Rich persons may avoid religion, but rich societies cannot avoid religion.
Now, this new dimension has to be added. Religion need not worship poverty. Religion need not console poor people by saying false things to them, by consoling them, by giving them invented theories of past lives and future lives and fate, etcetera. The whole earth is now capable of becoming affluent. Science has released so much power -- but it has to be used rightly!
Hence I am not in favor of the Western approach. The West is missing the soul, the very soul -- it is only a body. And the danger is that the stupid politicians in the East are going to imitate the West.
Now, every country wants to create atomic energy -- even India. Poor countries like India or Pakistan, they want to create atomic bombs. Why? People are poor and starving.
Just a few days ago, India launched a satellite, Bhaskar, into the sky, to study.... Industries don't have electricity; five days in a week, industries are being closed. You don't have electricity, but you launch a satellite to study the possibilities of the sky -- competition, foolish competition.
Now there are five hundred man-made satellites going round the earth. One of them, the American Skylab, is going to fall because it has gone out of control. It can create great danger. Poona is on its way; from Bombay to Poona, and from Poona up to Kannada, somewhere it will fall. And it will not fall in one piece in one place -- at least five hundred pieces, and each piece will be like a bomb. It can fall on an atomic generator and can destroy the whole earth.
And all those five hundred satellites, sooner or later, are going to go out of control. If the American satellite can go out of control, what about the Indian? Just two years ago, India launched its first satellite. Now it is functioning almost like an Indian -- the name of the satellite was Aryabhatta -- now it goes on giving wrong information. It is a nuisance! You cannot believe it. In the beginning they used to believe it, but then they found that it was giving absolutely wrong information. How like the Indian mind! How representative! Now they want to get rid of it, they want it to shut up, but it won't...it continues to send information. You cannot shut it up.
Poor countries imitating the West -- the whole thing is so foolish. The poor countries certainly need more scientific understanding, but they don't need sophisticated scientific instruments -- that is not their need.
And now science has released enough energy for the whole earth to be transformed into a paradise.
Buddha has contributed immensely, but as a side effect he has been one of the causes of India's poverty. I cannot ignore that fact. I have to state it. I have not stated it up to now, but now I have my own people who will understand.
Mahavira has contributed tremendously to India's spiritual enrichment, but the by-product of his teachings has been slavery for one thousand years; because of his teaching of nonviolence, India became one of the most cowardly countries in the world.
Now, Krishna is right in saying to leave everything to God -- in the religious dimension that's how things should be: trust God. But not in the scientific dimension -- there is a totally different mechanism that functions: doubt, not trust. Trust is the foundation of the religious world, doubt the foundation of the scientific world.
Krishna is perfectly right when he says to Arjuna, "Trust God! Surrender to God. Trust that whatsoever he is doing is right." Now, what has been the side effect? The side effect has been: "If you are poor, trust God; if you are ill, trust God. Whatsoever he is doing is right." This is the side effect. In the religious dimension it is perfectly right, but when you bring it to the scientific dimension it becomes absolutely wrong.
Now I have to say it. And I know I am going to suffer much because of these statements, because in India people are not accustomed to hearing any criticism of Krishna, Mahavira or Buddha -- no, not at all.
First I will make it clear to you where I differ. And soon I will start criticizing the side effects too.
Nishant, wait a little more, because I have to tell you the whole truth -- the whole truth as it is, whatsoever the consequences. I will appreciate whatsoever is worth appreciating and I will condemn whatsoever needs to be condemned.
India's poverty, slavery, long long suffering, cannot simply be tolerated, ignored. And Krishna, Mahavira and Buddha cannot be forgiven -- they are responsible. If they are to be praised for what they have contributed to the spiritual, they have to be criticized too because they have been the root cause of India's fall.
And now the time has come when everything should be put right. And it is not only a question of India: it is a question of the whole world. Just as Indian fools can imitate the West, there are Western fools who can imitate India, and can go on committing the same kind of mistakes that India has committed in the past.
We have to put things absolutely clear. We have to be very very dispassionate. That's why, Nishant, you are feeling there is a certain difference -- there is. You are not imagining things. My work is going into a new phase, I am entering into a new phase. Before the new commune happens, I am preparing for it....
Next: Chapter 8: The beginning of a new phase, Question 4
Energy Enhancement Enlightened Texts Dhammapada The Way of the Buddha, Vol. 1