Add to Onlywire
Dhammapada-Buddhism-Buddha
THE DHAMMAPADA: THE WAY OF THE BUDDHA, VOL. 1
Chapter 2: An empty chair
Question 2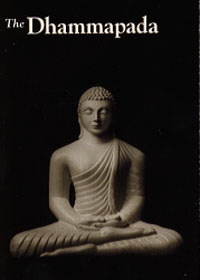 Energy Enhancement Enlightened Texts Dhammapada The Way of the Buddha, Vol. 1
The second question:
Question 2
BELOVED MASTER,
IT IS ABOUT THIS FEELING THAT IT HAS ALWAYS BEEN THERE, AND AS SOON AS I FEEL IT, IT SEEMS SO FAR AWAY -- BUT WHAT IS THIS "IT"?
Deva Prashantam, it is one of the perennial problems encountered by every seeker of truth. You cannot grasp truth -- if you try, it will be far far away. You cannot possess truth -- if you try, you will find your hands utterly empty. Truth cannot be possessed because it is not a thing. On the contrary, you have to be courageous enough to be possessed by truth -- because it is a love affair.
Allow yourself to be possessed by it and you will know what it is. But you have been doing just the contrary: you have been trying to have a grip on it. That's what mind always longs for, desires. That's what mind calls "understanding." Unless the mind is capable of catching hold of something, the mind is not satisfied.
But truth is mercurial: if you try to hold it in your hands, the firmer the grip, the more elusive it will become, and the farthest -- so far away that you will stop believing in it, trusting in it...so far away that you will not be able to see that it exists at all.
Truth comes; it cannot be brought. Truth happens; you cannot do anything about it -- because the doer is the problem, the hindrance, the obstacle. The doer is the ego. And if you somehow manage and don't allow the doer to interfere, it comes by the back door -- as the one who experiences, as an observer, as an experiencer. It is the same ego again, in new garments.
That's why when you feel it, it is lost -- the doer has come now as a feeler. The doer has to be dissolved totally; it has not to be allowed back in some subtle way, in some secret way.
Let the truth be! Don't be in a hurry to understand it or to feel it -- just let it be there. You need not do anything about it. If you can remain in such a state of nondoing, of no-effort, of no-ego, you will understand, you will feel, you will know, you will have it. It can only be had indirectly, not directly.
Prashantam, that's where you are missing it. And that's where everybody misses it. Yes, there are moments when suddenly it is so close by...you would like to grab it. The very desire to grab comes out of greed, the very desire to grab comes out of fear. The very desire to grab is a mind desire. And as the mind enters in, truth goes out.
Can't you simply be silent, not doing anything at all -- not on the intellectual level, not on the physical level, not on the emotional level -- doing nothing at all, just being there, utterly quiet? And then you will be possessed by it. And the only way to know it is to be possessed by it.
You say, "It is about this feeling that it has always been there...."
Yes, it has always been there. It is our very being. It is the stuff we are made of. Truth is not something separate from you: you are truth. It is your very consciousness, the very ground of your being. You need not go anywhere else to seek and search, to Kashi or to Kaaba. Not even a single step is needed.
Lao Tzu says: You can find it sitting in your own house, no need to go anywhere -- because it is already there! When you go on a search, when you move into seeking, you go farther away from it. Each search takes you away from the truth that is already there.
And there are moments when you feel it, that it has always been there -- moments of joy, love, beauty. Moments when suddenly the world stops: a beautiful sunset...and you are gripped by it. Remember I am saying you are gripped by it, possessed by it, not that you possess it. How can you possess a sunset? The sunset possesses you, fills you; every nook and corner of your being is overflowing with the beauty of it.
And then one knows, deep down in the depths of one's being, it has always been there. Not even the words are needed; one simply knows without words -- one feels.
Or, when you are in love...or when you listen to beautiful poetry...or the songs of the birds...or just the wind blowing through the pine trees...or the sound of water.... Whenever you allow yourself to be possessed you will find, suddenly, out of nowhere, truth has appeared, God has appeared, dhamma has appeared. You have touched something intangible, you have seen something invisible. You have been in contact with something eternal...aes dhammo sanantano -- the eternal law, the inexhaustible law.
Whenever you are in a state of harmony, everything humming, functioning in harmony, whenever you are in accord...and these moments happen to everybody. These moments have nothing to do with churches and the temples and the mosques. In fact, it is very rare to find a person becoming enlightened in a church or in a mosque, in a temple.
Buddha became enlightened under a tree, watching the last morning star disappearing in the sky; not in a temple, not in a church -- under a tree, watching a star. Must have become possessed. And the disappearing star, slowly slowly disappearing...going, going, gone. One moment before it was there, and now it is no longer there. And in that moment, suddenly something in him, the last citadel of the ego, disappeared too. Just like the disappearing morning star, his ego disappeared too.
The sky was empty, and he was empty. And whenever two things are empty, they become one -- because two empty things cannot be demarcated. By what will you demarcate emptiness? Two nothings cannot be kept separate; two nothings become one nothing. The star disappeared there, and the sky was empty, and the ego disappeared inside and the sky was empty inside too...and suddenly the inner and the outer were gone. It was only one sky.
That moment Buddha became enlightened. That moment he came to know dhamma, the logos, the tao, God, the cosmic principle of life.
Mahavira became enlightened, not in a temple -- not even in a Jaina temple! There were Jaina temples in Mahavira's time. Mahavira was the twenty-fourth tirthankara of the Jainas -- the twenty-fourth great master. Twenty-three masters had preceded him. There were Jaina temples, but he didn't become enlightened in a Jaina temple -- the Jainas should note the fact. He became enlightened in the forest. Just sitting there, doing nothing, and suddenly it came. It comes like a flood.
Mohammed became enlightened on a mountain. And so is the case with everybody: Lao Tzu, Zarathustra, Kabir, Nanak...not a single person has ever become enlightened in a temple, church or mosque. Why do you go there?
Go early in the morning to see the sunrise. Sit in the middle of the night watching the sky full of stars. Go, befriend trees and rocks. Go, lie down by the side of the river and listen to its sound. And you will be coming closer and closer to the real temple of God. Nature is his real temple. And there, be possessed -- don't try to possess. The effort to possess is worldly; the desire to be possessed is divine.
Prashantam, next time it happens, don't try to do anything about it. No need to understand, no need to observe, no need to examine, no need to analyze -- let it be there! Be possessed by it! Dance it! Sing it! And be totally one with it. That is the only way to know it.
You ask me, "It is about this feeling that it has always been there" -- the feeling is absolutely true -- "and as soon as I feel it, it seems so far away." Because with the feeling, the 'I' comes in -- and the 'I' is the distance between you and truth. The bigger the 'I', the bigger the distance, the smaller the 'I', the smaller the distance. No 'I', no distance.
And you ask me, "...but what is this 'it'?"
I cannot say it. It is now. Be possessed! It is here. Be possessed! It is not in my words but in the gaps. It is not in my statements but in the intervals. Read it between the lines.
But remember one thing very very significant: that you have to be possessed by it to understand it. And we are very much afraid of being possessed -- it seems as if we are losing control, it seems as if we are dissolving. "Who knows where it will land us? Who knows whether I will be able to come back from it or not?"
All these fears arise and you shrink back. And that is the moment you create the distance. The distance is your creation. Otherwise, it is always here, it is always now. Don't create the distance, don't bring fear in.
In all the languages of the world there are words for religious people like 'God-fearing' -- ugly words, absolute lies, because a religious person is not a God-fearing person at all. A religious person is a God-loving person, not a God-fearing person. But the priest depends on fear, he exploits your fear, and he creates fear in you. His whole business depends on whether you are afraid.
Drop your fears. There is no need to be afraid of God. God simply means the totality, the whole, that which is. We are part of it! How can the part be afraid of the whole? The whole cares for the part, the whole loves the part, because the whole will not be the whole without the part. It cannot be indifferent to the part.
Knowing this, one trusts. Knowing this, one allows the whole to possess. Knowing this, one drops all fears, one surrenders. And only in surrender it is, only in trust it is.
I can indicate towards it, but I cannot explain it to you. And it is already happening to you, Prashantam. You are blessed. Just stop your ways of creating distance between you and it. And that can be easily done: just take a little risk, a step into the unknown.... Fear will be there -- in spite of it, go into the unknown. Let the fear be there -- still go into the unknown. Only by going into the unknown will the fear disappear, because you will come to know there is nothing to fear.
And once you are enchanted by the unknown, then there is no end to this pilgrimage -- it is an eternal journey, never-ending, always ongoing; it is inexhaustible. aes dhammo sanantano -- it is eternal and inexhaustible....
Next: Chapter 2: An empty chair, Question 3
Energy Enhancement Enlightened Texts Dhammapada The Way of the Buddha, Vol. 1