Add to Onlywire
Dhammapada-Buddhism-Buddha
THE DHAMMAPADA: THE WAY OF THE BUDDHA, VOL. 1
Chapter 10: Neither this nor that
Question 4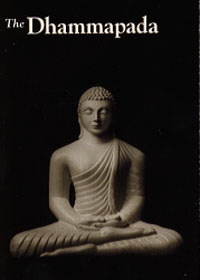 Energy Enhancement Enlightened Texts Dhammapada The Way of the Buddha, Vol. 1
The last question:
Question 4
BELOVED MASTER,
ARE NOT ALL THE PRIESTS THE WORST ENEMIES OF GOD?
Deepesh, not all the priests, but just the few -- the pope, the shankaracharyas. These are the people who are the enemies of God; otherwise, poor priests are simply trying somehow to make their bread and butter. They have nothing to do with God -- they are not friends, they are not enemies. They don't have any time for God. It is just a profession, and a poor profession at that. The poor priest doesn't get more money than the lowest clerk, and he runs the whole day from one temple to another, from one house to another -- he is almost a beggar! No, he is not the enemy of God. He just doesn't know any other way to earn his bread, particularly in India.
In India, priests are brahmins, and brahmins are the poorest people. They don't know anything else, and they can't do anything else -- the traditional mind won't allow them. They can't be cobblers, they can't be carpenters, they can't be sweepers.... The brahmins down the ages have lived on only one thing: praying to gods. But if you simply go on praying to God, you will die, you will starve. Money is not going to shower on you from the skies; it has never happened. So you have to use your praying capacity, your scriptural knowledge, as a profession.
But the poor priest is not the enemy or anything. He does not know anything about God, he is not really interested in God at all.
I remember:
A priest used to live just behind my house when I was a child. I used to torture him with great questions: "Does God exist? Is the soul immortal? What is the philosophy of karma?" One day he said to me, "You please don't bother me. I tell you the truth: I don't know anything. And you are a kind of nuisance! Nobody asks me these questions -- I am a simple priest. People just ask me to do puja -- worship -- so I go, and they pay me two rupees, three rupees, per day. Somehow I am managing. I have three children, an old father, mother, wife, and also I have to pretend that I am living perfectly well, because that's how a brahmin should pretend. He is the high caste, so I have to pretend that everything is going well.
"And then after the whole day's work when I come home, you are sitting here! I have earned only three rupees in the whole day, and we are almost starving. Now, who bothers whether God exists or not! And I don't know at all. I only know how to worship, and I can worship any god -- just give me the money."
So please, Deepesh, don't think that all the priests...not all the priests, only a few cunning ones are against God. They are worshippers of the Devil, they are the reason that very few people have been able to become buddhas. But the other priests, ninety-nine percent of them, are just poor people not knowing what to do. Traditionally, just knowing one thing, they can beg. But they are high caste, so they beg with a method. That method is their ritual for worship.
A man sees signs on the highway saying ONE MILE TO GRANDMA'S CAT-HOUSE. Overcome by curiosity and surprise that anyone should have the nerve to advertise so plainly, he goes in.
An old lady admits him and snaps, "Two dollars, please, and you can go right through the door ahead of you at the end of the hall."
He pays, goes through the door, which slams shut behind him, and finds himself out in the yard, which is full of wooden boxes with wire fronts, inside of which are some mangy cats. Overhead is a small hand-lettered sign: "You have now been screwed by grandma. Please do not tell the secret -- I am just an old lady trying to make ends meet."
Enough for today.
THE END
Energy Enhancement Enlightened Texts Dhammapada The Way of the Buddha, Vol. 1