STAGES OF HUMAN DEVELOPMENT
Birth
Young Adult
Middle Age
Old Age
PAGE CONTENTS:
DEVELOPMENTAL STAGES.
The generic stages of individual human development are a process of exploration, understanding, and most importantly integrating important life issues and skills that have a direct influence on the well being and development of the individual.
SUCCESS AND HEALTH.
If the individual is successful at a stage, then the lessons and issues are understood and integrated into the growing healthy personality.
FAILURE AND DISEASE.
If the individual fails at a stage, then the personality registers a 'blockage' into the system. These blockages - unintegrated stages of development - can prevent the individual from actualizing the next stage of development, and very commonly may sabotage or damage the exploration and learning procedure of the subsequent stages.
Failed integration can lead to personality disorder, but these disorders are neither permanent or untreatable.
Conscious effort and professional guidance can to be applied via therapy to help the individual understand and heal any damage caused by failed integration.
Energy Enhancement offers this service.
Erickson's Eight Ages of Man.
Approximate Age (years)

Psychosocial Crisis

0 - 1.5

Attachment to mother
which lays foundations
for later trust in others.

HOPE

Trust versus mistrust.

1.5 - 3

Gaining some basic control of self and environment.
(e.g. toilet training, exploration)

WILLPOWER

Autonomy versus shame and doubt

3 - 6

Becoming purposeful
and directive

PURPOSE

Initiative versus guilt.

6 - puberty

Developing social, physical,
and school skills.

COMPETENCE

Competence versus Inferiority.

Making transition from
childhood to adulthood
and developing a sense
of identity.

FIDELITY

Identity versus role confusion.

Early Adulthood

Establishing intimate bonds
of love and friendship

LOVE

Intimacy versus Isolation.

Middle Age

Fulfilling life goals that involve
family, career, and society;
developing concerns that
embrace future generations.

CARE

Productivity versus Stagnation.

Later Years.

Looking back over
one's life and accepting
its meaning.

WISDOM

Integrity versus despair
---
Maslow's Hierarchy of Self Actualisation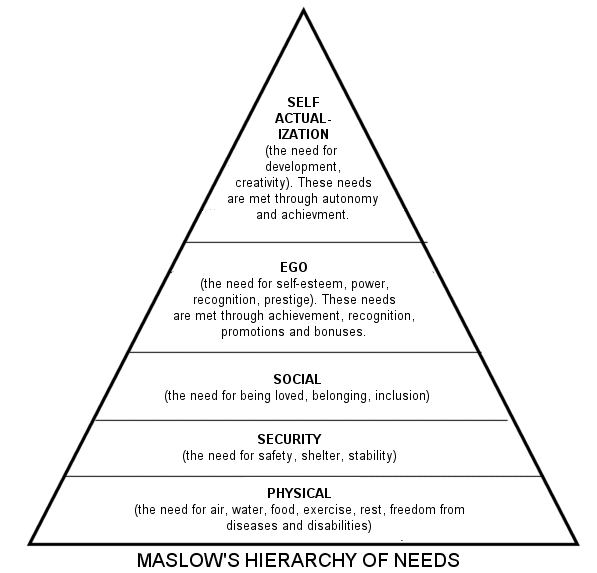 Chakra/Center

Life Areas

Maslow's Need

Physical


Physical

Security

Sexual


Social

Vitality:

Power

Achievement ability and energy

Reputation created by achievements


Ego

Socialization and love:

Social skills

Affinity and empathy

Love

Compassion

Friendship

Marriage


Social

Ego

Communication and self-expression


Social

Ego

Self actualization

Social

Ego

Self actualization

Self actualization
---
COMPARATIVE TABLE
Kabbalah Sefirah

Sefirah Attributes.

Christian
Sacrament

Chakra Name and Number.

Stage of Individual Development

Approximate Age

Shekhinah.

Creation

Baptism

1.
Mooladhara.

Birth and Infancy.

1 - 2

Yesod.

Foundation.

Communion

2.
Swadhisthana.

Childhood.

2 - 7

Hod and Nezah.

Majesty and Endurance

Confirmation

3.
Manipura

Adolescent.

11 - 18

Tif'eret.

Beauty

Marriage

4.
Anahata

Young Adult.

18 - 28

Gevurah and Hesed

Judgement and Mercy

Confession
(out with the old)

5.
Visuddha

Early Responsible Adulthood.

28 - 35

Binah and Hokhmah

Understanding and Wisdom

Ordination

6.
Ajna

Developed Responsible Adulthood.

35 - 55

Keter

Transcendent Considerations

Extreme Unction

7.
Sahasrara

Mature Years.

55 - 75